Chris Gayle blames West Indies board for Test exile
Last updated on .From the section Cricket
Former West Indies captain Chris Gayle has launched a stinging attack on the region's cricket board for leaving him on the sidelines.
The 31-year-old has not played Test cricket since December last year and has been overlooked for the current home series against India.
"I have come to the bitter realisation that I am not wanted by the board," the Jamaican batsman said.
"All that has gone before in terms of reconciliation is a sham, a mockery."
Gayle, a veteran of 91 Tests, 228 one-day internationals and 20 Twenty20 internationals, remains arguably the most exciting batsman in world cricket.
As a result, he is much in demand for T20 tournaments around the world and on Friday signed a contract to play for Sydney Thunder in Australia's Big Bash competition next winter.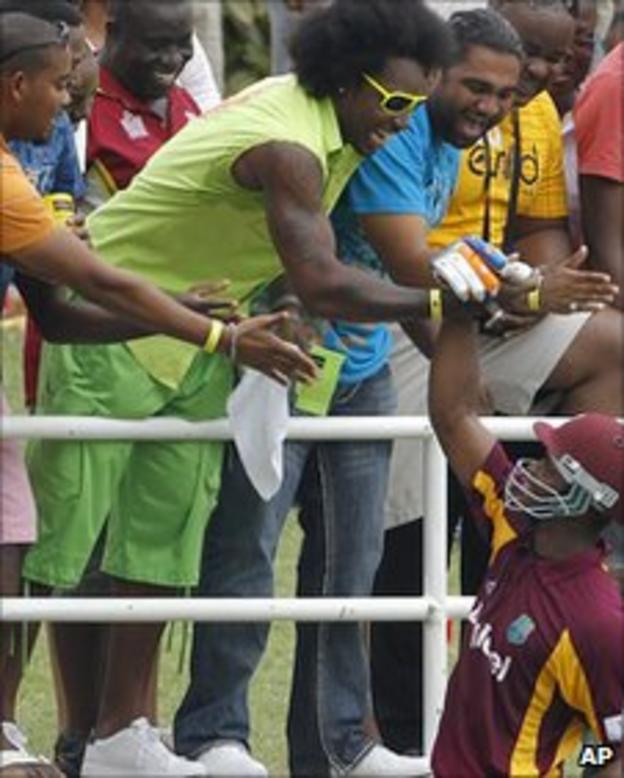 Because of his commitments with the Indian Premier League - he was named Golden Player of the Tournament after scoring 608 runs for Royal Challengers Bangalore - he was not chosen for the series against Pakistan in April and May.
And in a statement issued last month, the WICB made reference to "players who for reasons other than fitness or personal distress, make themselves unavailable for selection but expect to be selected whenever they deem it necessary to make themselves available".
The statement added: "The board has had issues historically in communicating with him and establishing a productive working relationship. Exceptional efforts had been made, especially during his tenure as captain, to establish that relationship."
Gayle, who was sacked as West Indies captain last October and replaced by Darren Sammy, said he had now come to the "bitter realisation" that he was no longer wanted but was not prepared to be the board's "whipping boy".
He added: "I wish to make it abundantly clear that I have not yet retired from any form of the game and remain available for selection for both Jamaica and West Indies. However, this is entirely out of my hands."
Responding to Gayle's comments, West Indies coach Ottis Gibson said he had recently spoken to the player and told him what he needed to do to get back into the team.
"What Chris wants to say is up to him. It's a board matter now. The board is dealing with it and Chris knows that.
"We are trying to build a team, a team that is competitive and starts to win. Everyone has a part to play in it, including Chris Gayle, if he chooses. He knows the score, but he's choosing his own path," Gibson commented.
In Gayle's absence, West Indies lost the one-day series against India 3-2 and are currently 1-0 down in the three-match Test series, with the second match currently ongoing in Barbados.