Stephen Moore column

By Stephen Moore
Lancashire and England Lions batsman
Last updated on .From the section Cricket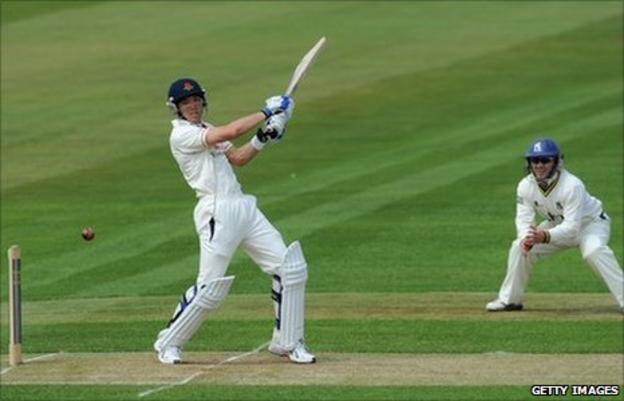 Most lyrical depictions of a quintessential English summer's day allude to brilliant blue sky, lush green grass, and sportsmen dressed in crisp white clothes.
This is true of two of England's greatest summer pastimes, tennis and cricket.
I have enjoyed watching Wimbledon over the last fortnight.
There are of course many other tournaments on the circuit but The All England Lawn Tennis Championships continually capture the imagination of players and fans alike.
Whether they have flown over on private jet or sweated blood and tears in qualifying tournaments, they are so keen to be a part of it that they shed garish colours and fancy outfits (Williams sisters aside) to conform to Wimbledon traditions.
Fans pitch tents for the night outside the gates and spend exorbitant amount of money on Pimms and strawberries and cream. You soak up this atmosphere as a fan to be a part of history and as a player to make history.
In the last three weeks we county cricketers have been flipping between the traditional and what some perceive to be the future of our sport.
It has been a topsy-turvy affair for us at Lancashire as a team, with great wins followed by tough defeats.
It is impossible to win every game, but it is 'bounce-back-ability', and then riding the wave of momentum, that we are trying so hard for.
Our Championship campaign is going strong with a win away at Nottingham, but two defeats to leaders Durham means we have to work harder as a team to push for top honours in September.
FL t20 quarter-final qualification will be decided in the next two weeks and having lost a few tight matches, we cannot afford any more slip-ups.
It has been interesting travelling the north of the country gauging the reactions of players and supporters to the various formats of our hallowed game.
Speak to any county player and Test cricket is still very much the pinnacle. Diehard supporters would agree but this attachment becomes less strong the further the supporter is removed from the game.
The reason I value first-class and Test cricket so highly as a player is because that is where I will judge myself long after I have retired, walking in the footprints of the greatest exponents of the game that have ever lived.
It is that history and tradition I like to soak up when walking out at Old Trafford, Lord's, or the other Test match grounds - and interestingly, this also seems to apply even in Twenty20.
Our only matches this season that have been sold out have been the Roses matches. In some respects, it seems to me that history and tradition transcend the formats.
Innovation and tradition are not mutually exclusive, as Petra Kvitova proved in hitting the ball so ferociously hard when winning the women's title at Wimbledon.
It is this fine balance of understanding what traditions are important for cradling the memories of the past and creating the right atmosphere, while allowing space for future stars to build a legacy others will want to follow, that Wimbledon has got so right.
You can follow Stephen on Twitter at: http://twitter.com/stephen_moore6