England's Alastair Cook starts to prove doubters wrong
Last updated on .From the section Cricket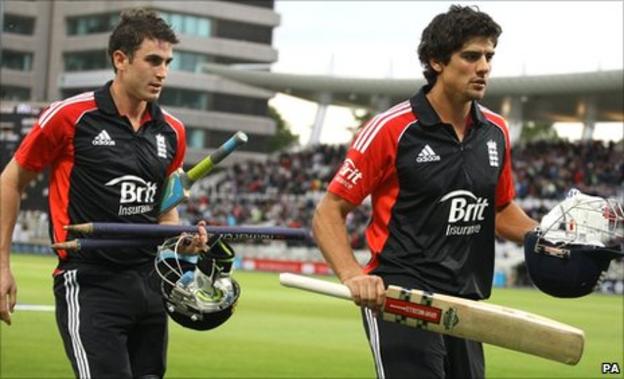 England captain Alastair Cook hopes he has proved his doubters wrong after scoring 95 runs to help level the one-day series against Sri Lanka at 2-2.
Critics have questioned the choice of Cook as one-day captain and whether his batting style is suited to that form of the game.
"It's very rewarding for all the hard work I've been putting in," said Cook.
"I've always known I can play the one-day game; it's just a matter of trying to prove it to people."
The left-hander, who hit three fours in the first over alone and 13 more in the rest of his superb 75-ball innings, added: "If I can keep batting like that, at that tempo - which I've shown this series - it holds me in good stead."
The 26-year-old also revealed Craig Kieswetter consulted him before hitting the winning run to level the one-day series with Sri Lanka at 2-2.
Cook was left on 95 but unlike Angelo Mathews rejecting runs to allow Dinesh Chandimal to get a century at Lord's, Kieswetter went on to seal victory.
"He did ask, which is fair," Cook said. "But it proves the team is always more important than personal milestones.
"When you win by 10 wickets and play as well as that, it doesn't get better."
England were critical of the way Mathews shepherded Chandimal to his second ODI hundred as Sri Lanka coasted to victory at Lord's on Sunday and Cook was determined not to do anything similar in Nottingham.
"Everyone enjoys a 'red-ink' [not-out] so watching Kiesy hit a six and a two was pleasing," he insisted. "He just said: 'Shall I look for ones, or hit a six?' So he hit a six."
Earlier, England had reduced the Sri Lankans to 11-3 in the fifth over and eventually dismissed them for 174.
Swing bowler James Anderson captured 3-24 and now has 14 one-day wickets at Trent Bridge to add to his 28 Test scalps at the ground.
"I honestly don't know why he does it as well as that. He just loves it here. It must be his favourite ground," Cook enthused.
"The way we bowled up-front obviously put us on the front foot, and then I thought that catch [Tim] Bresnan took changed the game - because they were getting a partnership going.
"Then the way Jade [Dernbach] bowled in the powerplay - an area where we haven't done well and can improve our skills in - was very good as well."
Sri Lanka captain Tillakaratne Dilshan was Anderson's first victim and said: "He bowled really well, and used the conditions.
"They took three wickets in the first six overs, and it pushed us back after that, but if somebody had batted really well in the middle order we could have passed 250. Then it might have been a different story."