Durham head coach Cook welcomes Collingwood selection
Last updated on .From the section Cricket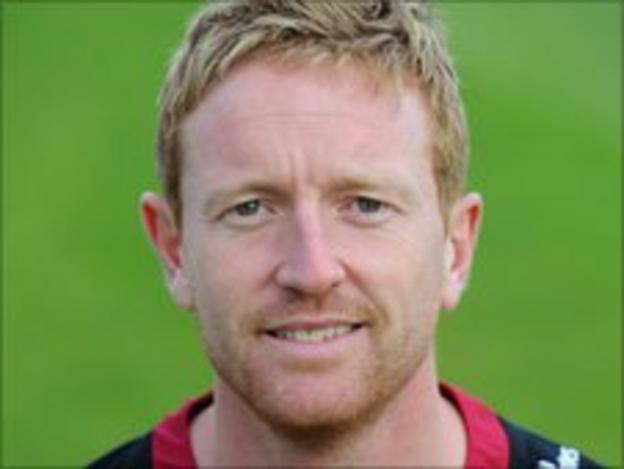 Durham head coach Geoff Cook is pleased Paul Collingwood has been given the chance to play in Australia's Big Bash Twenty20 tournament this winter.
The 35-year-old all-rounder joins South African veteran Herschelle Gibbs with the Perth Scorchers for the competition which starts in December.
"It's brilliant for Paul, no matter what he achieves he deserves to achieve it," Cook told BBC Newcastle.
"He worked his socks off, he had ambitions and he's fulfilled them."
He added: "To his credit he's thrown his lot in fantastically with Durham this year and he seems to be enjoying his cricket.
"He's very professional and he's crazy on Durham doing well."
The former England one-day captain quit Test cricket in January after the Ashes win against Australia, while injury curtailed his World Cup participation earlier this year.
Since recovering from an operation to repair the knee problem, the Shotley Bridge-born player has featured in both County Championship and one-day cricket for his home county.
Meanwhile Durham's own Twenty20 hopes remain upbeat with just four northern section games remaining.
Cook's side lie third in the North Group behind Leicestershire and leaders Nottinghamshire, and they have a double-header against Yorkshire to come this weekend.
"We've improved as the competition has gone on which was one of the aims, we've got a good chance of qualifying," he added.
"There are still all sorts of permutations that can go on within the Northern section but at least we've got a chance.
"We've got two home games which we've done well in this year, we're playing teams that are below us so things look ok but we've still got to go out on the pitch and play pretty well."
Durham host Yorkshire at Chester-le-Street on Friday, and then travel to Scarborough on the Sunday for the return fixture.