England v India: The end of an era for Indian cricket?
By Suresh Menon
Sports writer
Last updated on .From the section Cricket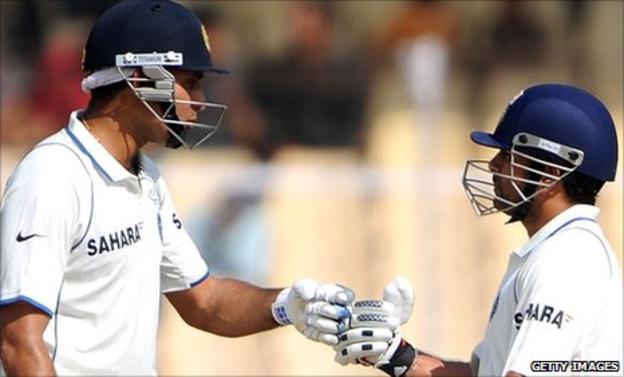 If Sachin Tendulkar, Rahul Dravid and VVS Laxman were to retire from the game this instant, what would the Indian batting line-up look like?
This thought experiment will soon become reality. How well prepared is the Indian team to fill these slots?
That's three batsmen with a combined experience of 453 Tests, 35,152 runs and 99 centuries.
How can you replace men like that? Laxman will turn 37 in November, the other two will blow out 39 candles each on their next birthday.
India's priority will be to ensure that all three do not go out at the same time. Retirements will have to be staggered, and newcomers given a chance to be mentored by one of the greatest middle orders of all time.
It is unlikely that any of the elders will come on another England tour, although such things cannot be said with absolute certainty.
The last time India toured Australia, for example, Tendulkar was given fond farewells wherever he went, but he will certainly return there once again at the end of this season.
Part of the greatness of this trio is that their cricketing obituaries have been written, but they have risen to haunt bowlers all over again.
All three of them have the opportunity to attend to a couple of oversights in England. Tendulkar and Dravid, for example, have 83 Test centuries between them, but no Test century at Lord's.
If you add Sunil Gavaskar's 34 centuries, it is curious that India's top three century-makers have none at that venue. Laxman's highest score in England is 74, so he will look to correct that anomaly in his record.
Of the youngsters who have done well in the last couple of years, Cheteshwar Pujara is out with an injury, Virat Kohli is out of form, Murali Vijay struggled in the West Indies and only Suresh Raina, who made a century on his Test debut against Sri Lanka last year, had a decent run in the Caribbean.
Those who have, temporarily, missed the bus for the middle order include Tamil Nadu's Subramaniam Badrinath and Mumbai's Rohit Sharma.
There is plenty of talent and some experience in that list. Perhaps even a future captain in Kohli.
The Indian selectors played safe when they could have given Kohli another chance in England. Still, he is only 22 and should fill one of the slots vacated by the 'Big Three'.
There is something of the bulldog in him. Once he gets his place back he will not let go.
Raina's allergy to fast, short-pitched bowling is well-known, but it is his tough fighting spirit that has been winning the day of late.
Technical certitude is the hallmark of the likes of Tendulkar and Dravid, but as Laxman has shown, a big heart can sometimes make up for weaknesses outside the off stump or anywhere else.
Raina is another potential captain in the mix - he has already led the national team (albeit a depleted one) on a tour of Zimbabwe.
Pujara, 23, has not been tested enough in international cricket, although the manner in which he dealt with the Australian bowlers in a Bangalore Test which India won holds great promise.
His 72, batting at number three in the run chase, suggested big things, but an injury during the Indian Premier League (IPL) has robbed him of a chance to display his wares in the West Indies and England.
When he started out he was seen as a natural replacement for Dravid, with his sound technique and appetite for big scores.
Another emerging Dravid - it is generally understood in India that there cannot be a second Tendulkar - is Murali Vijay.
He, too, has the big match temperament and adhesive qualities that promise big scores.
The IPL may have ruined his technique somewhat, making him prone to a committed front foot or its Twenty20 corollary, a tendency to pull the front foot away from the line of the ball.
Vijay is no spring chicken at 27, and it is back to the drawing board for him for the moment.
Yuvraj Singh seems to have been around for so long that it might come as a surprise that he is still under 30.
His place in the limited-overs side is unchallenged and he has played 274 one-day internationals, but only 34 Tests without really establishing himself.
Like the girl in the nursery rhyme, when he is good he is brilliant, but when he isn't he struggles against both swing and spin.
During the transition, his experience may be useful, but he is yet to prove that he is in for the long haul.
When the careers of the original 'Fab Four' of Indian cricket, the spinners Bishan Bedi, Erapalli Prasanna, Bhagwat Chandrasekhar and Srinivas Venkatraghavan ended, many expected their successors to be exactly like them.
Their replacements were criticised for not matching up. Fans cannot afford to make that mistake again and put additional pressure on youngsters following in the footsteps of all-time greats.
Test Match Special will have commentary on the entire England-India series on BBC 5 live sports extra, BBC Radio 4 Long Wave and the BBC Sport website.