Chris Tremlett: Born to bowl
By Sam Sheringham
BBC Sport
Last updated on .From the section Cricket
Tim Tremlett's opening gambit when we meet to discuss his son Chris's emergence as England's most explosive fast bowler is to confirm the rumour that he can squeeze an entire tennis ball into his mouth.
"He's got big hands and a big mouth and that has been his party trick from a very early age," says Tremlett senior with a smirk.
Fortunately for a family boasting a proud cricketing tradition, it is the things Chris can do with a red leather ball that is earning him a fearsome reputation.
After the first decade of his career was dogged by inconsistency and injuries, Tremlett, 29, has belatedly emerged as a true force in the highest form of the game.
Tall and muscular, but blessed with a graceful, rhythmic action, he uses his 6 ft 7 in frame to generate steep bounce off a length, leaving batsmen uncertain as to whether to play forward, back or to simply get out of the way.
During the recent Sri Lanka series, his ability to bowl bouncers disguised as length balls led to many a painful surprise for the visiting batsmen, leaving captain Tillakaratne Dilshan with a cracked thumb and several others nursing bumps and bruises.
And amid the chin music, there was the sweet sound of wickets falling - 15 of them at 23.40 apiece - earning Tremlett England's man-of-the-series award and firing a warning shot to India's celebrated batting line-up ahead of their four-match Test series starting at Lord's on Thursday.
Former England captain Michael Vaughan has identified Tremlett as the key to spoiling Sachin's Tendulkar's bid for his 100th century, while BBC Cricket correspondent Jonathan Agnew says Tremlett's new-ball partnership with James Anderson has the potential to become the most potent in the game.
In truth, Tremlett probably didn't have much choice about becoming a fast bowler. His grandfather Maurice bowled for Somerset and England in the 1940s and 50s, while Tim ran in for Hampshire in the 1980s and was pretty determined that his son would continue the family tradition.
"This is very sad, but I can remember coming back from a golfing holiday with my wife and family when Chris was about six weeks old," Tim recalls.
"We stopped off in a car park so he could be fed, and I put a golf ball in his hand and shaped it to bowl an away-swinger. His grip was spot on, that was the main thing."
After excelling at basketball at school, Tremlett joined Hampshire's academy when he was 16 and made his first-class debut against New Zealand A in 2000, taking a wicket with his first ball and ending up with 4-16.
He was picked for the England under-19 tour of India in 2000-01 and earned a place in Rod Marsh's academy the following season. But his journey to full England recognition was held up by hamstring injuries and a tendency to let his head drop and lose rhythm when things were not going his way.
A naturally laid-back and undemonstrative type, it was said that he lacked the aggression characteristic of the very best fast bowlers.
Crucial in bringing about a change in mindset was the arrival at Hampshire of a certain blond Australian leg-spinner who goes by the name of Warne.
"One of the things Shane said was that if the penny drops for Chris he could become really good," says.
"Shane was always on Chris's case, trying to make sure he would fulfil his potential. He said he was athletic and had all the attributes but he said he had to able to intimidate batsmen with his presence. Chris is now learning that and believing more that he can do that."
When Tremlett's Test debut finally arrived it was against the touring Indians in 2007, with the Hampshire paceman immediately proving himself a handful in taking 13 wickets in three Tests.
A long and fruitful Test career beckoned, only for injuries to rule him out of the 2007-08 winter tours and push him to the margins once again.
Fit again the following summer, Tremlett's confidence sank to an all-time low when he was overlooked in favour of the unknown Darren Pattinson for a Test against South Africa at Headingley.
"He was very down after that," says Tim. "I remember keeping a text message for some time, in which he said 'What has happened here? I can't understand this.'
"I told him he had to pick himself up and move on, but it definitely affected him for a while."
By 2009, Tremlett's career had begun to stagnate in the cosy surroundings of his home county and after a disappointing season, he opted to leave Hampshire for Surrey.
A change of scene brought about a change of fortunes as Tremlett snared 48 Championship wickets and won himself a place on the Ashes tour. What followed was the stuff of boyhood dreams as he helped himself to 17 Aussie wickets, each one sparking jubilation back in the family home.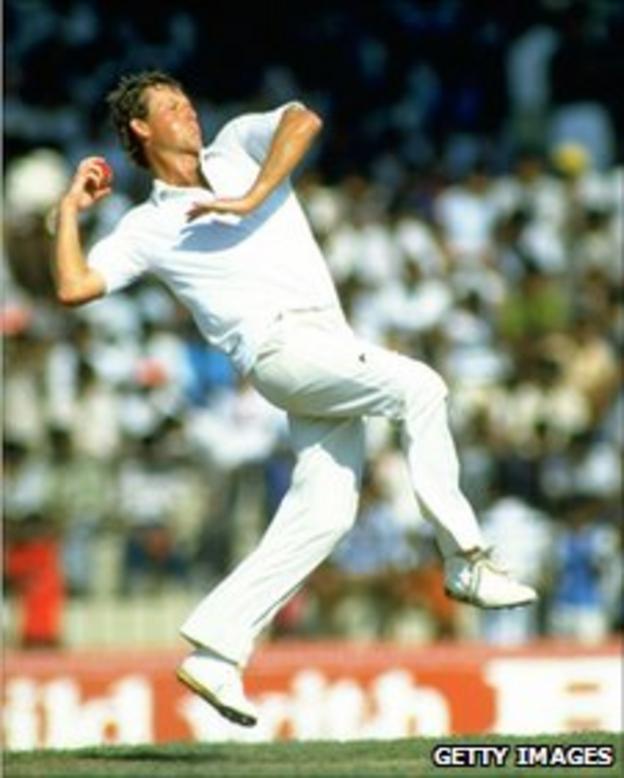 "It was hugely exciting," said Tim. "We were up early watching him in action and we kept in touch with him while he was out there. All the family were extremely proud of him."
Five months later, Tremlett penned another chapter in the family memoirs when he returned to his former home at the Rose Bowl and produced Test-best figures of 6-48 against Sri Lanka.
Such was Tremlett's success that he has usurped Stuart Broad as James Anderson's new ball partner and is being looked on as the man to ruffle the feathers of Sachin Tendulkar and co by preying on their supposed weakness against the short ball.
"Every bowling attack needs a cutting edge," says Agnew. "Someone who brings that hostility, aggression and unpleasantness that batsmen don't like.
"Anderson is a very fine swing bowler but Tremlett beats the batsmen with pace and bounce and makes things very uncomfortable. Against Sri Lanka, some of his bowling was simply x-rated.
"The forecast at Lord's is for overcast and muggy conditions and if Tremlett can bowl that nasty length and get it to rear up around their throats from nowhere he could have a huge influence on the match."
Back in Hampshire, Tim Tremlett is gearing up for a trip to Lord's and the opportunity to watch his son further enhance his reputation against the side England are looking to displace as the world number one Test team.
"Chris was here over the weekend and he is very excited about the series," he says. "He's been doing his homework about all the India batsmen and can't wait to get out there. It should be a cracking series."