Steve Waugh reveals 56 illegal approaches by bookmakers
By Sam Sheringham
BBC Sport at Lord's
Last updated on .From the section Cricket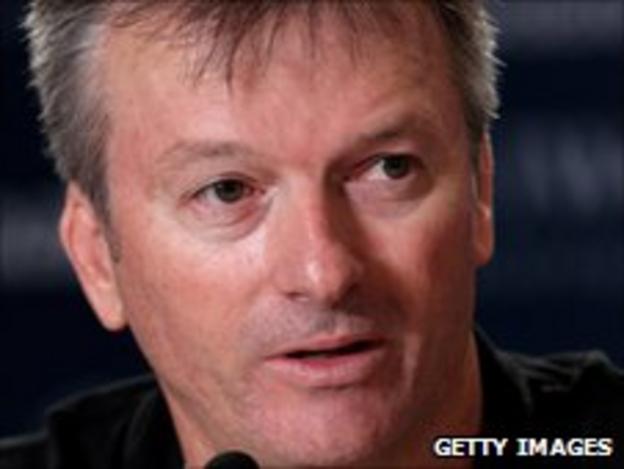 Former Australia captain Steve Waugh has revealed that 56 international cricketers reported receiving illegal approaches from bookmakers in 2010.
There were only five reported to the International Cricket Council in 2009.
Waugh, who is leading a drive to eliminate match-fixing from the game, has suggested introducing lie-detector tests to combat the problem.
"Any captain or person in a position of authority found guilty should have a lifetime ban," he told BBC Sport.
Speaking to BBC Test Match Special, the 46-year-old said he was pleased to see players reporting suspicious behaviour to the ICC's Anti-Corruption Unit, but called for anyone found guilty of match-fixing to be banned for life.
"Any captain found guilty should have a lifetime ban because they set the tone and values of the side," Waugh added. "If they are doing something wrong it's a lot easier for the younger kids to get involved in it.
"I don't know if the ICC is doing enough. I'd like to have some conversations with them.
"They are doing some good work because last year 56 players reported an approach by a bookmaker and the year before it was only five, so that suggests the players have confidence in the system and confidence that it will work."
Corruption in cricket hit the headlines again last year after the fourth Test between Pakistan and England at Lord's in August 2010.
In February, an ICC tribunal found Pakistan cricketers Salman Butt, Mohammad Asif and Mohammad Amir guilty of corruption after an alleged plot to deliberately bowl no balls in the match.
The trio, along with a fourth man, Mazhar Majeed, are due to face trial at Southwark Crown Court in October accused of cheating and conspiracy to obtain and accept corrupt payments. They deny the charges.
Waugh, who scored 10,927 Test runs for Australia, believes the scandal has damaged the sport's reputation and he is confident that a lie-detector scheme could help restore confidence.
"We can't be naïve and close our eyes to this, of course it's going on, it's going on in all sports," he commented. "You hope only to a small degree. I'm sure it's more spot-fixing than other stuff these days, but it's still not right.
"By taking the lie detector test I wanted to get the message out there that I was prepared to do this and I saw that [England captain] Andrew Strauss said he was prepared to do one if required too.
"It's totally voluntary and it's not about going over the past, it's about moving forward.
"How can the public get some confidence back? People have been caught only by accident over the years, which only goes to show it's very hard to prove and catch people.
"So let's go the other way, let's be positive about it, have people who are ambassadors for the game and are willing to sign these statements and, if required, back it up with a polygraph."
Meanwhile, ICC general manager Dave Richardson said the increase in reported bookmaker approaches could be a positive thing as it shows players are even reporting innocent approaches.
"I think it is a good sign," Richardson told BBC Sport.
"In the old days there was a little bit of a conspiracy of silence. If there were approaches, people laughed them off or did not take them seriously.
"A lot of the approaches could be innocent, but experience shows us that it is sometimes the start of something.
"Now the education is there and players are aware of the dangers. Players are suspicious of these things and are reporting any approaches.
"It is very hard to prove something or catch someone so the general approach [of the ICC] is to ensure the players stay away from the temptations or the corruptors.
"A large body of intelligence has been built up over the years as to who these guys are. They might be photographed at a Test match in Sydney one week and then Mumbai the next, so they are known.
"If the players are seen with one of them they can be asked if they realised they are talking to a bookmaker and be warned to be careful. The Anti-Corruption Unit's policy is more preventative."