Jonathan Agnew column

By Jonathan Agnew
BBC cricket correspondent at Lord's
Last updated on .From the section Cricket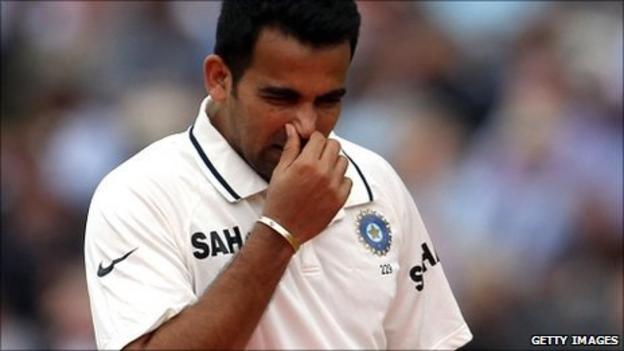 The injury suffered by India seamer Zaheer Khan on the afternoon of the opening day's play at Lord's could turn out to be hugely significant.
India are hopeful he will be able to bowl in England's second innings but if he is out for the match, it would deal the visitors a real blow and hand England a great opportunity to go 1-0 up in the series.
Zaheer is their main man, and although Ishant Sharma is a very fine bowler, the new man Praveen Kumar didn't look overly threatening. He bowled reasonably in helpful conditions, but if the sun comes out, I can't see him being hugely effective. He has wobbled the ball around a bit but he's got no pace.
India have taken a risk in only selecting four bowlers, especially allowing for the fact that Zaheer has only played one first-class match in seven months.
Given his lack of cricket, it was no huge surprise to see him hobble off, and it does raise questions over India's decision to only schedule one warm-up match ahead of this series.
I know they have a very busy schedule over the next few months, but that is no way to prepare for a Test series as big as this.
When I went out for the toss there was a tremendous sense of occasion - it felt almost Ashes-like. There were top officials from the ICC, the two country's boards exchanging presents and a big buzz in the crowd.
Given that backdrop, inevitably some of the players were a bit anxious and that might explain why England's running and India's fielding were a bit patchy.
In fact, the Rahul Dravid slip chance off Jonathan Trott was very difficult - it was Harbhajan Singh's first ball, it kept low and it would have been a brilliant catch.
The other chance was Mahendra Singh Dhoni's fault but the ball swung dramatically after it bounced, which can happen at Lord's.
I don't know where to start talking about Kevin Pietersen's innings. He was just all over the place and he is very lucky to still be there.
When he plays well, he plays straight but he wasn't doing that today. He was aiming everything through midwicket.
I also thought Dhoni missed a trick. Pietersen was trying to negate the movement by getting down the pitch and the wicketkeeper should have stood up to the stumps earlier on. He also declined to put in a short-leg and that proved costly when Pietersen gave a clear opportunity, but there was nobody there.
Overall, England will be content because in these conditions 280 might be a decent score.
But India will do the old trick of adding two wickets to the scoreboard and they will think that England are not in such a great position overall.
It was an attritional day and it took good judgment, some luck and the absence of India's front line bowler for England to reach 127-2.
It's a bit early to tell which side is on top, but if the weather is going to improve, England will be happy that they haven't suffered the damage they might have done had they had to bat all day today.