India coach Duncan Fletcher frustrated with his bowlers
By Tom Fordyce
Chief sports writer at Lord's
Last updated on .From the section Cricket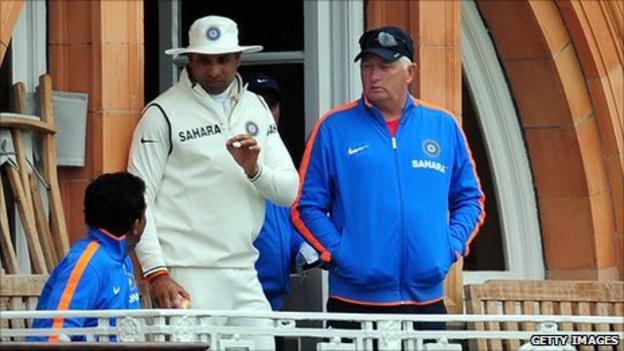 India coach Duncan Fletcher was frustrated with his bowlers after England limped to 127-2 on a rain-hit opening day of the first Test.
In conditions ideal for swing bowling, India dismissed Alastair Cook for 12 and Andrew Strauss for 22 but failed to cash in further as England dug in.
Fletcher told BBC Sport: "It's difficult coming here from the West Indies where it didn't swing at all.
"But it was disappointing they didn't put it in the right areas more often."
He added: "We spoke to them about the length to bowl and about the slope, which can be difficult if you haven't played here before.
"We would have been quite happy to have taken three wickets; we're not too unhappy with two, but we should have had another one."
Fletcher did his best to calm Indian fears about his main strike bowler Zaheer Khan, who limped off clutching his hamstring midway through the afternoon, having taken 2-18 from his 13 overs.
"It's difficult to say at the moment, because he's still being examined, and some X-rays are being looked at," said Fletcher.
"These things can take 12 hours or so to settle down, so we'll have a better idea in the morning. It seems at this stage as if it's not as serious as we first thought, but we'll have to see how it is in the morning."
England's Jonathan Trott paid tribute to Zaheer's swing bowling skills after amassing an unbeaten 58 before heavy rain ended play just before tea.
He said: "Zaheer bowled really well - very accurately, as his figures showed. As a team, we're preparing as if he'll be fit.
"If you had asked us at the start of the day we'd probably have said our current position was OK, but there's a lot of cricket left to be played.
"We did well as a side and as a unit. I had a few let-offs so I'm really happy to be not out overnight - I've got the opportunity to go out on Friday and see how many runs I can get.
"My plan was to play as straight as possible and let the ball come to me - when it's swinging and seaming around, you can sometimes get a little too worked up with predicting where it's going to go, and start trying to smother it.
"You start playing the opposite way to how you would on a flat track rather than doing the basics."
Fletcher, England coach for eight years and the man who brought Strauss, Cook and Kevin Pietersen into the England set-up, denied he had felt any mixed emotions during his 100th match as a Test coach.
"You need to get totally involved in a side, and from that point of view you just get stuck in.
"Having my 100th Test does feel quite important, but at the end of the day I'm here to help bring in ideas and forget about anything to do with me."
Fletcher was one of the first international coaches to call for an umpire review system. The established Decision Review System (DRS) system will not be used in this series after Indian objections, but Fletcher pronounced himself happy with the change.
"It's important that everyone makes up their own mind about it, and some people feel certain areas still need working out. Even when I pushed for it, I never said it was 100% right."
Listen to Jonathan Agnew and Geoff Boycott's review of each day's play on the TMS Podcast page.