Jonathan Agnew column

By Jonathan Agnew
BBC cricket correspondent at Lord's
Last updated on .From the section Cricket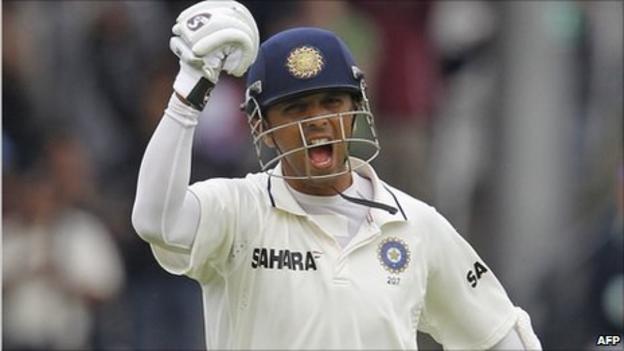 The batsman nicknamed 'the Wall' has often had to live in Sachin Tendulkar's shadow but Rahul Dravid is a wonderful player and he also arrived at the crease on Saturday determined to get his name on that famous honours' board.
He is one of the game's finest players, he is wonderful to watch and he was in one of his more positive frames of mind, looking to play shots from the very start.
I think most cricket fans would accept that Dravid and Tendulkar are very different individuals but they are both great players.
Indian fans probably warm to Tendulkar more, because he was their darling from a very young age and he is a class above anyone else in his team. But in any other generation Dravid would be there by himself.
I don't think there has ever been any competition between the two of them. In a way they are the perfect foil for each other. They come in and they bat well together, just as they did here.
Dravid is also one of the nicest men I have ever encountered in international cricket. He is just one of cricket's good guys and it is nice when people like him do well. There will be a lot of people who will be really happy for him.
The frustration for England is that they did not dismiss Dravid for 42 and that dropped catch by Graeme Swann at second slip could prove to be a turning point in the match.
Indeed if Swann and Strauss had clung on to their chances in the same over, might have had a five-wicket haul.
As it was he ended up with 4-37 and fully justified the big call the selectors made in picking him.
Many people, myself included, felt conditions may have been more suited to Tim Bresnan, but Broad has taken his opportunity.
He is a much better bowler when he pitches the ball up and the spell he bowled from the Nursery End was just like the one he bowled at the Oval against Australia in the 2009 Ashes.
He was under huge pressure coming in to this match. He was out first ball on Friday and with a poor performance he might well have been dropped.
But top sportsmen tend to perform really well when it really matters. That is what stands them out.
They are not cowed by the pressure they respond to it.
As far as the match is concerned, there is lots of belligerent talk about England declaring at tea on Sunday but I would be very surprised if they did that.
The ball has swung around and Swann has found some spin, but what they don't want is for this wonderful Indian batting line-up to embarrass them.
I think Andrew Strauss will have the intention of declaring on the fourth day but I don't think we'll see a gimme because there is so much batting he will be wary of.
Today has been the best of Test cricket this summer by far, and has woken everyone up to the fact this is going to be a really good series.
There was always a chance that Rahul Dravid would upstage Sachin Tendulkar at Lord's on Saturday and that is exactly what happened.