Jonathan Agnew column

By Jonathan Agnew
BBC cricket correspondent at Lord's
Last updated on .From the section Cricket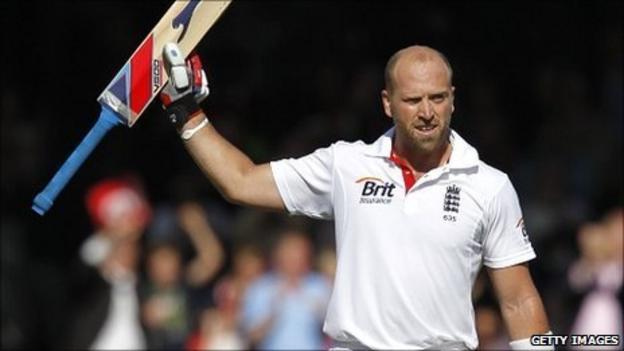 Matt Prior is making a habit of scoring hundreds when England need them most - and that is exactly what he did on the fourth day at Lord's.
When he came to the crease, England were in danger of throwing the game away.
I interviewed England batting coach Graham Gooch at lunchtime and you could tell he was distracted and worried. England were in a mess and they knew it.
So to come out and score the runs that Prior did was brilliant. He has never scored easy runs and that example today was as good as you can get. It was an utterly selfless innings.
He only hit six boundaries and still managed to score at almost a run a ball because he is a busy player. He must be horrible to play against because he chases the field around and runs hard.
There is no question that he is now the best wicketkeeper-batsman in Test cricket.
The other contender is Mahendra Singh Dhoni but his wicketkeeping skills are nowhere near as good as Prior's. The way they bat is quite similar but I know who I would want standing behind the wickets.
If England want to be the world number one side, they need to recover from positions of real pressure - and that is exactly what they did today.
That was an example of how a really good team can dig very deep when their confidence is low. There is spine in this England team and it is personified by the way Prior bats in those pressure situations.
The one sour point in the day for me was the dismissal of Eoin Morgan. I was sitting 100 yards away, 150 feet up and I could see that Gautam Gambhir took a clean catch.
But the option for the umpires to refer a decision is spoiling the game because the players know that the umpires will confer if they stand there. And as soon as a decision goes to the TV umpire, there is a very good chance a batsman will be given not out.
I am not having a go at Morgan in particular but it is the culture now for batsmen to wait for those decisions to be checked.
And if players are going to continue to cheat each other, there are going to be more and more reviews and more bad decisions. We need a bit more spirit in the game.
From an India point of view, Ishant Sharma can be very proud of his efforts. He is lively and he stood up really well in the absence of Zaheer Khan.
Sharma has a very high action, he gets bounce and I love the way he got Kevin Pietersen out with an excellent lifting delivery.
The only thing that surprised me was that Sharma was rested after lunch. That allowed England to take the sting out of the game and begin the path to recovery.
It is all set up for another fascinating day on Monday.
It is going to be hard work for England's bowlers but the ball is moving around and turning a bit so, if they can take a couple of quick wickets, things could well swing their way.