Prior primed for "attritional" final day at Lord's
Last updated on .From the section Cricket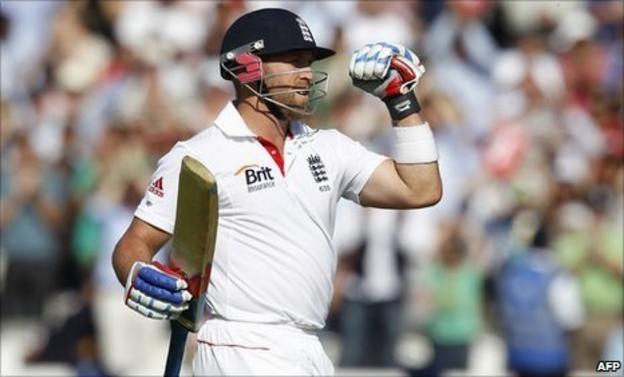 Matt Prior expects "an attritional day" at Lord's on Monday as England try to bowl India out to win the first Test.
The wicketkeeper, who hit a crucial century to put England back in the driving seat, believes they will make a breakthrough if they can be patient.
"It's still a good wicket and there is something still in there for the bowlers," Prior told BBC Sport.
"But we have a very good bowling attack and we will have to take wickets by building pressure."
Prior's gritty unbeaten 103, achieved in partnership with Stuart Broad who made 76 not out, dug England out of a hole, taking them from 107-6 to 269-6, setting India a record Test target of 458 to win.
"I had some luck out here. To be walking to the wicket at 60-5 is not an ideal on what was still a pretty good deck," said Prior.
"Eoin Morgan was unlucky to get out and Stuart Broad played superbly well. I was able to work singles around while Broady hit the boundaries. The innings he played was just phenomenal.
"As an England team we pride ourselves now on making sure that a couple of us step up when we have to.
"For months Alastair Cook, Andrew Strauss, Kevin Pietersen, Ian Bell and Jonathan Trott have stepped up. I was pleased that myself and Broady could show that we are a team never to count out and, from any position, can come back."
But Prior was quick to stress that England must be disciplined and hope they can work their way through India's remaining batsmen.
He explained: "We will have to be pretty patient and may go a couple of hours without taking a wicket - but then hopefully have that silly hour where you take five. That is probably more the way the day is going to go."
The Sussex man believes all the pressure is on India, who may not have talisman Sachin Tendulkar available to bat in his usual number four spot after he had a long spell off the field on Sunday because of illness.
Tendulkar will not be able to bat until 1413 BST, or the fall of the fifth Indian wicket, whichever comes first.
"There will be a huge amount of pressure on them too and no matter how many Test matches you've played, playing at Lord's is special," added Prior.
"There will be that pressure and the pressure of them wanting to get runs on the board - all these things come into play.
"But I'm sure we'll be able to get through them."