Jonathan Agnew column

By Jonathan Agnew
BBC cricket correspondent at Lord's
Last updated on .From the section Cricket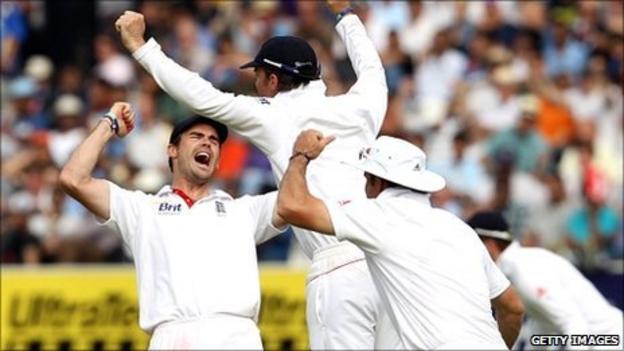 I really cannot fault the way England played in the first Test and I think the word that best sums up their performance is character.
There were a few times when they were vulnerable - at 270-5 in the first innings, and in the second innings when a brilliant spell from Ishant Sharma reduced them to 62-5 - and yet both times they showed the fight and determination to dig themselves out of it.
There was also the character shown by Kevin Pietersen, who looked so at sea for much of his innings but fought his way through it and made that pivotal double-hundred.
Matt Prior showed his fantastic battling qualities, scoring runs at vital times for England in both innings, Stuart Broad recovered from a golden duck to bowl and bat superbly, and James Anderson was a bit off the mark in the first innings but came back to bowl brilliantly on the final day.
To deliver the goods just when people were starting to talk about their places showed what top-class players Pietersen and Broad are. Rather than shrinking into a nervous shell, really good players stand up and produce it.
Their displays will delight the England management team and captain Andrew Strauss, who led the side well and was positive with his declarations. I think there were times when he could have been more aggressive with his field placings, but he put faith in his bowlers and they delivered it for him.
Alastair Cook had a poor game, and Eoin Morgan didn't contribute very much, but despite that they had enough players around them to pull them through. They got runs on the board and used scoreboard pressure to stay on top of India.
And on the final day the bowlers performed well as a unit, with a little bit of help from the pitch. We have seen some very flat final-day wickets at Lord's but there was always a little bit of something to keep them going today.
Of course, there were mitigating factors in England's triumph, and India were clearly hamstrung by the loss of Zaheer Khan. It is always a great shame when a team loses a bowler because it has a massive impact on that team's fortunes but there is very little that can be done about it.
Sachin Tendulkar's illness also seemed to affect him on Monday and it was a scrappy old innings by his standards.
But India have a few problems to sort out before the second Test at Trent Bridge, starting on Friday. They haven't had a huge amount of preparation and it is going to be tough now for them to turn this around.
They will hope to have Zaheer fit but captain Mahendra Singh Dhoni certainly didn't seem terribly confident that that would be the case.
England, meanwhile, are perfectly set up for the rest of the series. India can be sluggish starters, and they didn't have a huge amount of preparation, but you can't do any more than come in and win the first match of a series as convincingly as that.
On a separate note, I think today offered a very good case for why lbw decisions should be included in the Umpire Decision Review System, with England being denied the wickets of Tendulkar and Suresh Raina by poor umpiring decisions.
As everyone knows, I am not a big UDRS fan, but you see incidents like that on a day when you are looking to take wickets to win a game and suddenly it is difficult to question it. There were two decisions there that went very firmly against England, and yet they still managed to do it.