Glamorgan chairman Paul Russell resigns over ill health
Last updated on .From the section Cricket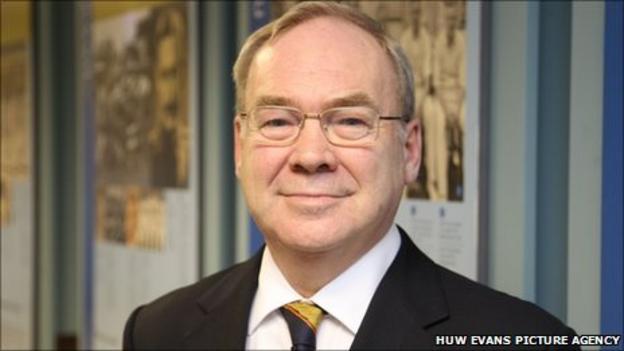 Glamorgan chairman Paul Russell has stepped down from his position with immediate effect because of ill health.
Committee member Barry O'Brien, a senior partner in a London law firm, has been appointed as interim chairman.
Nigel Roberts, who had been elected to take over the reins sometime this year, will remain as deputy chairman.
"I have made this decision because I believe it to be in the best interests of Glamorgan Cricket," said Russell, who had been chairman since 2003.
"My choosing to depart earlier than planned facilitates the club addressing and securing its long term future".
Russell oversaw the £10m redevelopment of Glamorgan's Sophia Gardens ground into an international Test match venue.
The ground staged its first Test match in July 2009 when England battled to a draw against Australia in the opening match of the Ashes series.
In June, Glamorgan were stripped of the right to host England's 2012 Test with the West Indies, but a delegation will head for Lord's on Tuesday to bid for another Ashes match in 2013 or 2015.
Glamorgan chief executive Alan Hamer said Russell's contribution to Glamorgan cricket "has been immense".
"On behalf of the Club, I would like to thank him for his vision, determination and continued commitment," said Hamer.
"I wish Paul well in his retirement and, as a passionate Glamorgan supporter, I'm sure he'll be a regular visitor to the stadium."
Hamer added that O'Brien's appointment as interim chairman will "ensure that there is a smooth transition period, until such time as we announce a successor to Paul".
Russell endured a turbulent winter as the appointment of South African Alviro Petersen as captain led to a number resignations among key figures.
Coach Matthew Maynard, captain Jamie Dalrymple and president Peter Walker all walked away in protest.
And at March's AGM, three of the four committee members standing for re-election lost their seats after more than 70 years of service between them.
Treasurer David Davies, Brian Shackleton and Jeff Bird lost their seats, while Malcolm Price was re-elected. David Herbert, Frances Bevan and Brian Frost were elected.
In July, Russell was awarded the International Cricket Council Spirit of Cricket award in recognition of his service to the game.