Jonathan Agnew column

By Jonathan Agnew
BBC cricket correspondent at Trent Bridge
Last updated on .From the section Cricket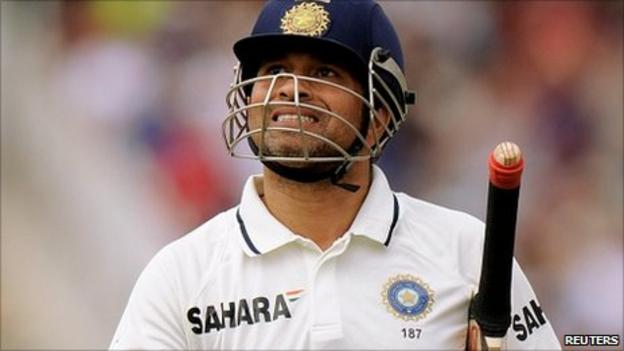 England look like the number one side in the world and India do not.
It would be wrong in any way for Sunday's diversion to detract anything from England's win. They would have won the game anyway, even without the Ian Bell incident.
There is always room for little stories within stories and sub-plots within the main plot, but the fact is that England's cricket has once again been absolutely top drawer and I'm afraid India's hasn't.
I don't know how the tourists are going to lift themselves. With the World Cup, the Indian Premier League and the tour of the Caribbean, it has been an endless merry-go-round for most of them and you can tell.
They look flat, they look jaded and there is no energy in the field. You could put that down to a hangover from Lord's where they had to work so much harder because of Zaheer Khan's absence but I just don't see how they are going to come back from this.
There are also a number of batsmen who England will feel they have got the sign over.
With Edgbaston likely to throw up another pitch like this, with a bit of pace and carry, I think the likes of Suresh Raina and Abhinav Mukund can expect the same treatment.
The conditions are totally alien to them and they are not going to enjoy it very much.
India only have one two-day game at Northampton to get themselves sorted and they need Zaheer Khan to play in that game. It's one thing to get over a hamstring injury, but it's another to be fit to play in a Test match.
While India were dismal, England were superb and their star performer in Monday's denouement was Tim Bresnan, who is simply the most improved cricketer that England have.
When he first came into the team he looked out of his depth. It wasn't helped by the fact that they gave him the new ball. He is not a new-ball bowler in my view - he is a good, solid, first-change seam bowler. But he has put some pace on, he has a nasty bouncer and he is aggressive.
He also really opened my eyes to his abilities with the bat. He played some terrific shots and I haven't seen him bat as well as that before.
Bresnan's performance has caused a selection issue for Edgbaston, where Chris Tremlett will be fit to return to the side, although the selectors might be saved if Jonathan Trott is injured.
That would mean, however, changing their four-bowler, six-batsman policy, and it may be that they would prefer to replace like with like and bring in either Ravi Bopara of Essex or Leicestershire's James Taylor.
England will just have to be ruthless. They have to pick the right side to win a Test match. And if they do win, they will rightly and deservedly be on top of the world.
Aggers was talking to BBC Sport's Sam Sheringham.
Listen to Jonathan Agnew and Geoff Boycott's review of the day's play on the TMS podcast.