India captain Mahendra Dhoni says bowlers were tired
Last updated on .From the section Cricket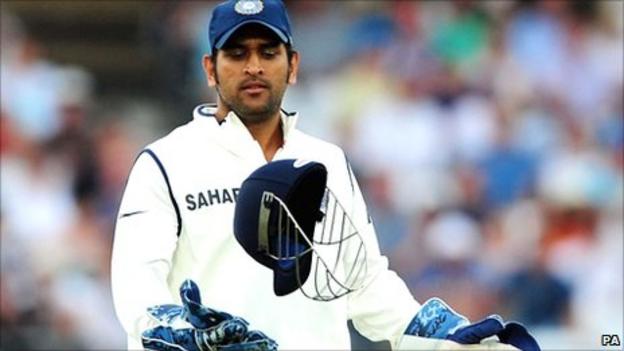 Skipper Mahendra Dhoni admitted India had much to address after their 319-run defeat against England at Trent Bridge.
They had England struggling at 124-8 on the first afternoon of the second Test, but were beaten inside four days.
"We have to correct a few things," said Dhoni, who was out first ball in his team's second-innings total of 158.
"The bowlers were a bit tired, their batsmen played brave shots that paid off. We tried everything but it was that day where nothing went for us."
Trailing England 2-0 in the four-match series, the tourists will relinquish their number one Test ranking if they lose the series by two or more games - a fate which will be sealed if they are beaten in either of the last two Tests.
Dhoni and coach Duncan Fletcher have also been beset by the absence of key players.
Left-arm seamer Zaheer Khan and opening batsman Gautam Gambhir were injured during the first Test at Lord's and missed the match at Trent Bridge, while star opener Virender Sehwag was ruled out of both the opening Tests following surgery on his shoulder.
"We are quite below par at the moment - injuries happen, we had a makeshift opener and had to manage with three bowlers, and all our part-time bowlers are spinners," said Dhoni.
"We've come here before and done well, we won the last series here but we need all our departments to click at the same time.
Sehwag is due to arrive in England on Tuesday and is expected to feature in the two-day tour match against Northants, starting on Friday.
"We'll see how Sehwag goes in the practice game, I have no official word but hopefully he will come and give us the strength we need. We know what he is capable of," the captain added.
"Zaheer is having a few deliveries, we don't know exactly where we stand right now."
Reflecting on the Indian skipper was happy with the way the matter was sorted out after he agreed to withdraw the team's appeal.
"I initially felt he was out, but later on as a team it didn't feel right, and that was the main reason why we decided to call him back." Dhoni admitted when accepting the Brian Johnston Champagne Moment award from the BBC Test Match Special team, in recognition of the sportsmanship he had showed.
"The spirit of the game and the laws are something different - there was a similar incident recently with VVS Laxman against West Indies, so we wanted to make sure nothing like that happened here."