Derbyshire teenager Peter Burgoyne aims for World Cup
Last updated on .From the section Cricket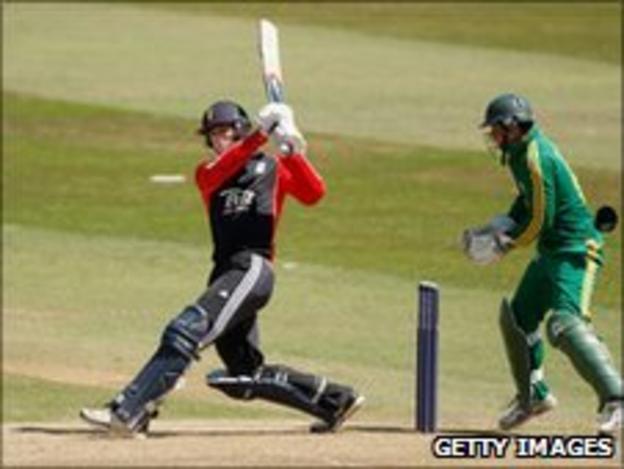 Derbyshire all-rounder Peter Burgoyne has set his sights on making the England squad for next year's Under-19 World Cup in Australia.
Burgoyne, 17, played all seven matches of England Under-19's recent one-day series defeat against South Africa.
He told BBC Radio Derby: "It [my inclusion] came as quite a surprise, being 17-years-old I was not sure what was happening.
"But they want a young team to try to get us to play in the World Cup."
Burgoyne impressed throughout the series, with the highlight of his batting figures coming at Arundel, where he scored 28 runs off 27 balls.
The off-spinner also impressed with the ball, taking four wickets for eight runs in 6.2 overs during the side's win at Canterbury.
"For me it went brilliantly and I really enjoyed it," he added. "I hope to carry on throughout the winter and play in the World Cup.
"That would mean everything to me. It's what I've been working towards most of my life and it's what everyone wants to do."
Burgoyne joined Derbyshire as a six-year-old, and has progressed throughout the youth sides but is yet to make his first-team debut.
However he can look to fellow England Under-19 international Tom Knight, who broke into the T20 team this season and also played in four of the matches against South Africa.
"It would be brilliant to play for the first team," Burgoyne continued. "Along with England, it's what I've always wanted to do. You see people like (Luke) Sutton and say I want to be playing."
The 2012 ICC Under-19 Cricket World Cup will be the ninth competition of its kind and will include the top 16 Under-19 international teams.