England better than 2005 Ashes side - Andrew Flintoff
Last updated on .From the section Cricket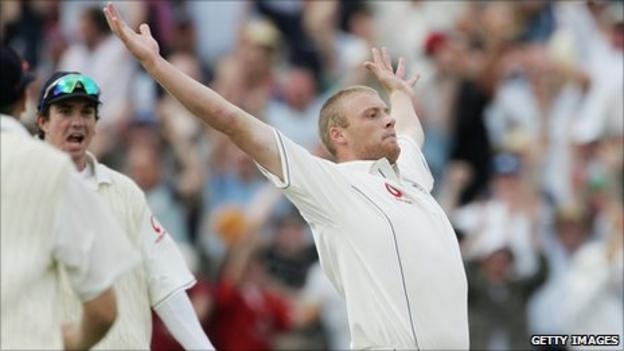 Andrew Flintoff believes the current England Test side are better than his team which regained the Ashes in 2005.
Flintoff is convinced England can dominate world cricket like Australia and West Indies have done in the past.
"England are the best team in the world already. Not just in ranking, but also in strength, they have got everything."
England will depose India as the number one team in the Test rankings if they are victorious in the third Test, which starts at Edgbaston on 10 August. England lead the series 2-0 after destroying India at Trent Bridge.
Flintoff added: "This is a better side than the one we had in 2005.
"The strength of it and the depth is incredible. In 2005 we had 11 players who had a memorable few weeks and played at their best for a period, but we never played together again.
"This side have a squad. We've seen them replace players without blinking and it has made no difference to the performance and that has been happening for a while now.
"I don't see why they can't dominate for a long time. They have strong enough players to do it. Australia and West Indies did it and England should be able to do it for the next few years.
"There are no weak links. They are playing with a confidence and a swagger that goes with being the best. They've got every department covered and if someone gets injured then another one comes in and does a job."