Paul Collingwood signs new Durham deal
Last updated on .From the section Cricket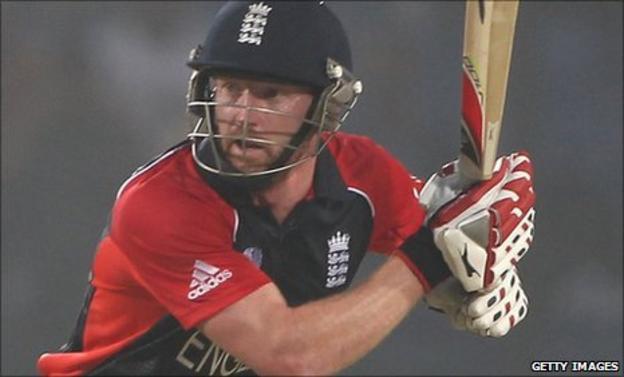 Former England batsman Paul Collingwood has committed his future to Durham by signing a new three-year contract.
The 35-year-old held talks with Derbyshire over a possible move, but has chosen to stay with the county where he made his debut 15 years ago.
Durham coach Geoff Cook told BBC Newcastle: "There was speculation Derbyshire approached Paul but we were very keen to get him onboard with us.
"I think he's enjoyed the challenge of getting back into county cricket."
Cook added: "Division One is a very high standard and I think he has enjoyed that, and three years of him will be a big bonus."
Collingwood, who guided England to their World Twenty20 success in the Caribbean last year, retired from Test cricket following England's Ashes-winning tour of Australia during the winter.
He has since lost the Twenty20 captaincy to Stuart Broad and his place in both England's one-day and T20 teams.
Since returning to the Durham side this summer after recovering from a knee operation, Collingwood has helped the county to the top of the County Championship.
But Cook said there was no suggestion Collingwood would replace Phil Mustard as captain as part of his new deal.
"He just wants to get back in the ranks and play cricket and be of assistance where he can," added Cook.
"There are a few young players coming through and he will play a vital role in that."