Promotion out of Glamorgan's reach, says Petersen
Last updated on .From the section Cricket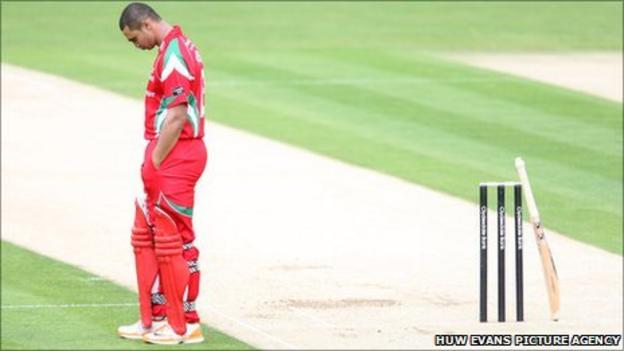 Captain Alviro Petersen has conceded that Glamorgan's hopes of promotion from Division Two of the County Championship are over this season.
Friday's draw with Essex leaves the Welsh county in seventh place in the table with four games to play, 37 points adrift of the promotion places.
"Promotion looks like it could be out of the window at this stage," said South African opener Petersen.
In all competitions so far this season, Glamorgan have won only 10 of 36 games.
Victory was within their reach against Essex in their 12th game of the County Championship as the visitors slumped to 104-6 in their second innings, chasing an unlikely target of 333 from 52 overs to win.
But Graham Napier and Tim Phillips dug in for 21 overs to grind out a draw, leaving Petersen to face accusations of an overly conservative declaration in Glamorgan's second innings.
"Hindsight is always a perfect science," said Petersen, who waited until his side reached 296-7 on the final day before calling an end to the innings.
"We did the right thing. We made the call that it was the right time to declare. We didn't want to give them a chance of victory.
"We had played good cricket and the least we deserved was a draw. We didn't deserve a loss.
"In hindsight we could have declared a little bit earlier, but I'm proud of the boys and the way we fought.
"It was a difficult wicket to get 10 wickets on in under a day. We really needed a full day to try to bowl them out."
Glamorgan's final four games of the season are against Leicestershire (home), Gloucestershire (away), Middlesex (home) and Kent (away).