Glamorgan's seaside retreat
By Aled Williams
BBC Sport Wales
Last updated on .From the section Cricket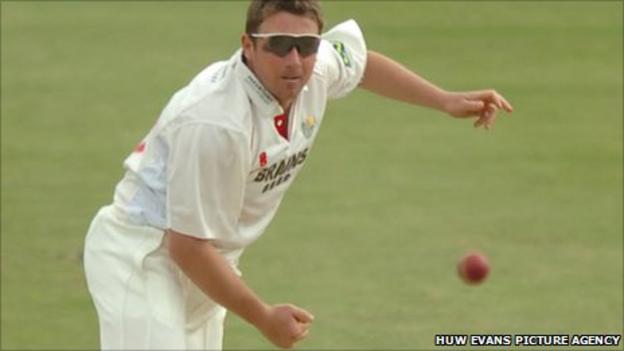 Glamorgan Cricket Club's seaside sojourn in Conwy's Rhos-on-Sea is certainly no summer holiday - although the county side has been visiting the town's Penrhyn Avenue ground for the last 21 years.
Players and officials make the annual pilgrimage to north Wales this week to face Leicestershire in a four-day County Championship match starting on Wednesday, before playing host to Lancashire in a CB40 fixture.
The ground is home to Colwyn Bay Cricket Club, and Glamorgan's links with this part of north Wales were forged by their County Championship captain of 1948, Wilf Wooller.
It was Rhos-on-Sea-born Wooller who was influential in bringing first class cricket there.
"They're very well supported when they come up here," said Colwyn Bay Cricket Club chairman, Brian Hughes.
"I suspect we probably get better crowds watching a first class game in Colwyn Bay than perhaps you do down in Cardiff.
"It's tremendous not only for Colwyn Bay Cricket Club, but obviously for north Wales.
"I believe the hotels, restaurants, shopkeepers all benefit from the crowds that come along to watch first-class cricket.
"The Welsh recognise Glamorgan as a Welsh team. To come and play cricket in north Wales is important."
It is a view shared by Robert Croft, Glamorgan's former England spinner.
"It's very important that Glamorgan is seen as the team of Wales," said Croft.
"If we want the connection and the support from the people of Wales it's important we take the game to their doorstep.
North Walians who have represented the county include Wooller, Matthew Maynard and current first-team member Will Owen.
"Will has done very well," added Croft. "And we've also got a lad in the academy and development squad in David Lloyd who is from north Wales as well.
"It's very important to us that we continue to keep the road south open as it were for players from north Wales to come and play for Glamorgan."
Croft made his first appearance for Glamorgan at Rhos in 1992 and enjoys returning.
"I enjoy the friendliness of the ground itself," said Croft. "It's almost got a holiday atmosphere about it all.
"We get an opportunity to stay at Llandudno, a lot of the boys' families come up and stay and we generally play some good cricket there.
"We tend to play in a lot of big grounds where supporters are a long way away from you.
"However when you play at places like Colwyn Bay the supporters are right next to you. There's a connection between players and supporters."
Croft has his own special memories of playing at Colwyn Bay.
In 1997 he made an unusual entrance at the ground when he arrived by helicopter for the start of a County Championship match.
He was honoured by the Gorsedd of Bards in a ceremony at the National Eisteddfod in Bala before being flown back in time for the day's play.
Seven years later Croft led the celebrations after Glamorgan were crowned one-day champions following victory over Lancashire.
For Colwyn Bay chairman Brian Hughes, one of many highlights was Steve James' innings during a Championship match against Sussex in 2000.
"The one that stands out is the 309 not out and that was a tremendous innings," he said.
"We enjoy a very good square at Colwyn Bay. The wickets are always, if you like, batsmen friendly.
"That's probably one the reasons batsmen enjoy coming to Colwyn Bay and batting on what is a very good wicket."
However match day duties restrict the amount of cricket Hughes has witnessed.
"Over the last 18, 20 years I really haven't seen an awful lot of the game," he added.
"As chairman I have got an awful lot of things happening by the hour. I'm here, there and everywhere.
"But I do try and sit as much as I'm allowed to and enjoy a bit of cricket.
"I'm quite happy to do what I'm doing and make sure that everything flows smoothly.
"Provided there are no changes within the structure of the game then I'm confident that we'll see Glamorgan coming up to play first class cricket in Colwyn Bay for many years to come."