Jonathan Agnew column

By Jonathan Agnew
BBC cricket correspondent at Edgbaston
Last updated on .From the section Cricket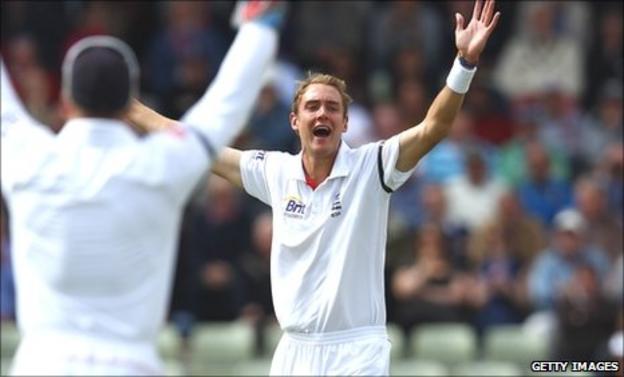 Just before the start of play, I said hello to Stuart Broad when he was marking out his run-up. He looked straight through me.
He was not being rude, it's just that he was just so absolutely in the zone, thinking out his strategy, that he did not immediately register my presence.
It shows what a level these players are on and Broad's concentration on the job provides a perfect illustration of why England are so far ahead of India in all departments.
They are on duty from the moment they walk into the dressing-room, their warm-ups are on a different level to India's - and they are full of energy in the field.
Knowing that his side have the edge, and that his bowlers have a hold over India's batsmen at the moment, Andrew Strauss felt putting India in was the right way for England to take the initiative.
And that is exactly what has happened.
Broad was the pick of the England bowlers. He just keeps bowling down the right channel and moving the ball away. Tim Bresnan wasn't quite as tidy as he was at Trent Bridge, but he still took four wickets.
James Anderson got in on the act with two scalps, but I still feel he could be more successful if he tried to swing the ball in to left-handers rather than away from them. It will continue to be my bug-bear and one day we will have a beer and a chat about it, and he will explain why he does it.
The tourists did well to recover from 111-7 - and enact something of a repeat of England's escape at Trent Bridge.
Mahendra Dhoni played exactly the right innings, very much in the style of Matt Prior. At 111-7, he had to counter-attack and he used his amazingly powerful bottom-hand to smash huge sixes.
But despite the captain's heroics, you just don't feel that India are going to produce the fight-back that the series really needs.
They have a tame-looking attack - only Ishant Sharma is getting anything above 80mph - and if England bat patiently, and sensibly, they are going to bat India out of the game on Thursday.
You don't get to number one by accident.
India have character and a huge amount of talent that has got them there, and I don't think they want to relinquish it very keenly. But they haven't looked full of energy and life. This series has had so much hype, but as yet it has not lived up to its billing in terms of India's performance.
On another note, it was a good day for Hot Spot, with two decisions correctly overturned thanks to the technology.
Inevitably, umpire Steve Davis will get grief over both verdicts but for the first one Virender Sehwag's gloves were behind his line of sight. For the second decision, I heard third umpire Rod Tucker telling Davis not to worry because the edge was "a real faint one". I think that is a nice example of umpiring team work at its best.
Aggers was talking to BBC Sport's Sam Sheringham.
Listen to Jonathan Agnew review the day's play on the TMS podcast.