Gareth Rees and Mark Wallace commit to Glamorgan
Last updated on .From the section Cricket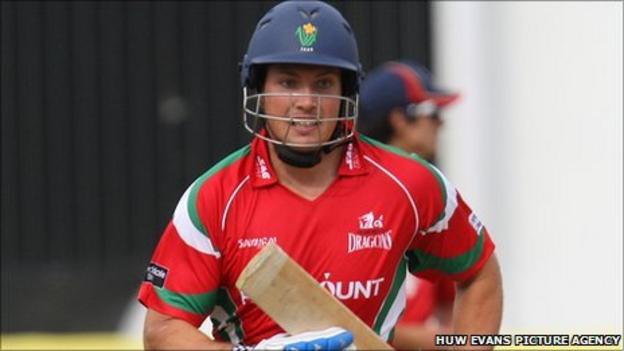 Two of Glamorgan's leading performers this season have been given new deals, but coach Matthew Mott has warned others they need to prove themselves.
Opening batsman Gareth Rees and wicket-keeper Mark Wallace had a year left of their existing contracts but have been given two-year extensions.
"Gareth and Mark are key players for Glamorgan," said Mott.
Five other players are out of contract at the end of the season and Mott says some must impress to earn new deals.
"A couple of those guys have been spoken to at length and told they will get contract but the others have been told they've still got work to do to put their contracts to bed," added Mott, who took over as coach at the beginning of the season.
"It's been well documented the club's finances aren't what we'd like them to be. We've certainly got to crunch some numbers and make sure we can fit some square pegs into some round holes."
Rees, 26, has scored two centuries for Glamorgan this season, and with 450 runs, is currently the third-highest scorer in the CB40 competition.
Wallace is close to setting a new personal best for runs in a Championship season by surpassing his previous record of 856 in 2003.
"Having been Glamorgan's youngest-ever wicket-keeper, I am now one of the team's senior players and am very happy to extend my stay with the Club into a 16th season," said 29-year-old Wallace.
"I still have lots to achieve and ant to help Glamorgan realise their own ambitions at the same time."
Glamorgan face Nottinghamshire Trent Bridge in the CB40 on Friday.