Jonathan Agnew column

By Jonathan Agnew
BBC cricket correspondent at Edgbaston
Last updated on .From the section Cricket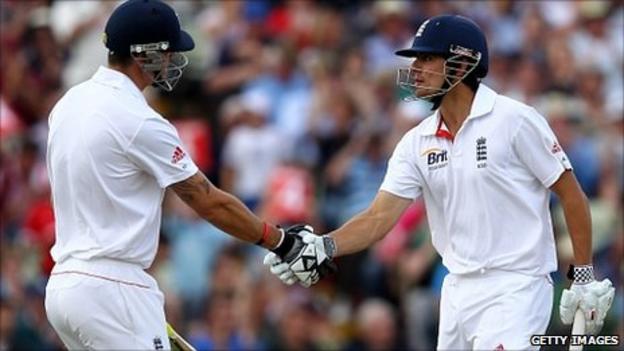 This series has been a real battle for Alastair Cook and the way he played on Thursday summed up what a superb performer he has become.
Cook is the sort of batsman who likes the ball coming on to the bat and doesn't like having to look for it. Some people may not understand it but he would far rather the ball was delivered fast at him rather than at medium pace.
He likes to use the angle and pace of the ball, which is why he has been struggling against this India attack and Praveen Kumar in particular.
But really good players fight hard to get themselves into form and that is exactly what Cook did.
He really had to graft for his first 50 runs. He got in a tangle with his bat and pad a few times but he has incredible concentration and once he is in he is relentless, as these top-class opening batsmen have to be.
Cook now has 19 Test centuries and he will become the highest-scoring England batsman of all-time.
He could play for another 10 or 12 years if he really wants to. He is fit enough and good enough and I think he has the appetite for it. He will be the next England captain and will keep chalking off the records.
The Essex opener's innings provided a lesson to the India batsmen, several of whom simply haven't shown the same application to bat themselves out of a sticky patch.
They know what they have to do but they just don't look as though they are switched on to this at all.
I think if I were an Indian cricket supporter I would be pretty devastated at the way their team has come and played.
As we have said before the fielding sets the tone. It tells you so much about the attitude and mental approach, but there is just nothing there.
VVS Laxman has his hands in his pockets more often than out, Mahendra Dhoni's keeping has been sloppy and even the usually reliable Rahul Dravid dropped two slip catches.
The bowlers have plugged away but I was surprised that Sreesanth - who has got a bit of pace, character and fire about him - was not encouraged to bowl some bouncers, unsettle England and get them out of their comfort zone.
There was no effort from the Indians to try to harry the England batsmen, to hustle them and get under their skin.
They look so far short of their usual standards that not only will their supporters be horrified, one imagines the players themselves will be horrified too.
I just hope coach Duncan Fletcher doesn't carry the can for this shambles because he hasn't had any time to get his feet under the table.
One hopes that common sense will prevail and he will be given the time to sort it out. He will be very disappointed at what he has seen and he has a big job to do.
Aggers was talking to BBC Sport's Sam Sheringham.
Listen to Jonathan Agnew review the day's play on the TMS podcast.