Close to greatness, but not the greatest - Brian Close
Last updated on .From the section Cricket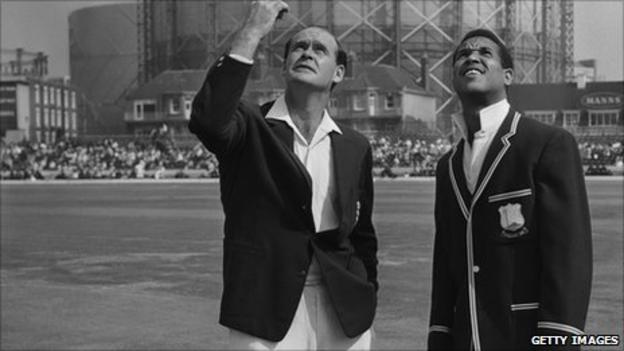 Brian Close is arguably one of the men best placed to judge where Andrew Strauss's team stands in the pantheon of great England Test sides after knocking India off their number one perch following Saturday's innings victory at Edgbaston.
Close, who made his Test debut in 1949 - the youngest English Test player at the age of 18 years and 149 days - was unbeaten as England captain, with a record of played seven, won six and drawn one.
The 80-year-old describes Strauss's side as "quite useful" but is unequivocal in his answer when asked whether the current team is the best England Test side.
"No, unfortunately it isn't," Close told BBC Sport.
He is equally unequivocal about which is the best England side there has been: "Obviously the one I captained," said Close, before he breaks into a cackling laugh, a cackle made even more throaty by a smoking habit.
"I only started in 1955 because I was bored on the 1955/56 tour of Pakistan."
With the best win percentage record of any 20th-century England Test skipper - "Don't forget, we should have won the Test we drew" - Close believes the standard of Test cricket has been spoilt by the amount of one-day cricket that is now played.
"Limited-overs cricket is entirely opposite to the first-class game," said Close, who lost the England captaincy in 1967 in controversial circumstances after his Yorkshire side were accused of unsporting time-wasting tactics to avoid losing a County Championship match against Warwickshire.
"The limited-overs game - particularly Twenty20 and 40-over matches - reverses that. Bowlers are running up wondering where they can bowl the ball so the batsman can't score.
"That doesn't help bowlers improve their ability to bowl properly and think. Cricket is a thinking game."
For Close, the key to measuring a Test side's true greatness is the strength of its bowling attack.
"We used to play six days a week of Championship cricket," explained Close, who retired from county cricket in 1977 but continued to play the occasional first-class game at the Scarborough Festival, where "D.B. Close's XI" would play the touring international sides at the end of the summer.
His last first-class innings came in 1986 at the age of 55, when he finished six short of 35,000 first-class career runs.
Close added: "Fred Trueman would bowl 1,000 overs a season. They don't bowl anything like that now.
"You only learn to bowl by bowling under the right conditions where a batsman in Test or Championship cricket has to defend his wicket and to build an innings.
"Bowlers make a Test side because you need to get the opposition out twice. The quicker you bowl your overs, the less time the batsman has to compose his thoughts for the next delivery.
"They bowl 90 overs in six hours now. We used to bowl between 125 and 130 overs in a six-hour day and we didn't bowl overtime!"
Close won his first Test as captain in 1966 at the Oval against the West Indies when he caught Garry Sobers first ball from a John Snow delivery.
The side he led included such England greats as Geoff Boycott, Colin Cowdrey, Tom Graveney and Ray Illingworth.
"We played on uncovered wickets and therefore the top bowlers - seamers, spinners and quicks - were able to do things with the ball and batsman had to learn how to play them," Close explained.
"I saw batsman make hundreds and never play and miss. When do you see that now? They play and miss quite regularly when it moves around."
Arguing that limited-overs cricket encourages technical deficiencies in players - "If you make runs in limited-overs cricket, you can't stop your hands going through the ball and you can't have that" - Close called for a return to three-day Championship games.
"We'd get two-first class matches a week. It's all right having the odd one-day competition but they have so many of them it means they don't play enough first-class cricket."
Close was speaking after having just played 18 holes of golf at the British Par Three Championship. He can play golf either left or right-handed, and is almost a scratch golfer with either hand.
He has just returned from a week's golf in Spain with his great friend Sir Ian Botham - "I did bring him up, you know" - referring to their time together at Somerset.
Despite his age and his injury-ravaged knees - he lifts up his trouser legs to show four surgical incisions on a gnarled right left leg and three on his left leg - the former Yorkshire and Somerset captain is in sprightly shape, both in body and mind.
At school he excelled at maths - "I could do it falling over and my schoolmaster wanted me to go to Cambridge" - and reveals as a teenager he was a better footballer than cricketer, though injury and National Service ensured that he pursued a career in cricket.
Remarkably, 27 years after his Test debut, Close was chosen for three Tests in 1976 at the age of 45 against a West Indies attack that included Andy Roberts, Michael Holding and Wayne Daniel.
It proves difficult to pin Close down to which was the best Test side he faced, but you sense it was that bowling whirlwind of a Windies team: "They were the nastiest bowling side."
Close almost winces at the memory. Almost.
Listen to Jonathan Agnew, Geoff Boycott, current selector and former Test spinner Ashley Giles plus former England captain Ray Illingworth debate whether the current England Test side is their greatest ever.