Neil McCallum announces Scotland retirement
Last updated on .From the section Cricket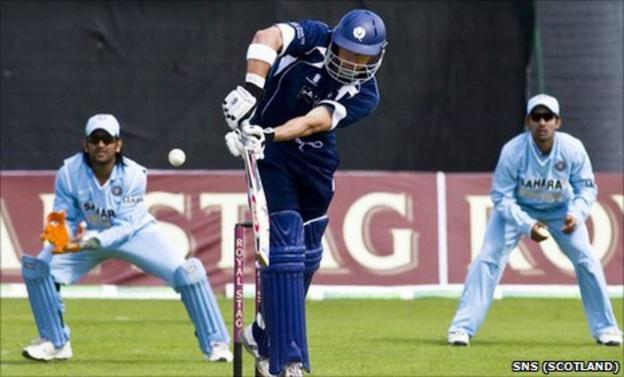 Scotland batsman Neil McCallum will retire from international cricket following Sunday's match against Hampshire at Mannofield.
The 33-year-old is second equal behind Iain Philip on the list of century-makers for Scotland.
"It has not been an easy decision to retire this weekend, but I believe the time is right," he said.
"It was becoming harder to dedicate the correct amount of time to perform and train at an international level."
McCallum scored 68 against Pakistan on his ODI debut and averaged more than 44 in 14 first-class games, which included a knock of 181 against the Netherlands in 2007.
But, as a schoolteacher, the Grange batsman feels he can no longer commit to Scotland fully.
"These days, Scotland are training and competing all year round," he said.
"I have been trying to juggle work and family on top of school, club and regional cricket, as well as the demands of training and competing at the elite level."
"Representing Scotland has been an honour and I have been extremely fortunate to play at some of the world's best grounds, against some of the world's finest players and also to play in three memorable World Cups, each being an amazing experience.
Scotland head coach Peter Steindl declared it a pleasure to have worked with McCallum.
"His dedication and enthusiasm both on and off the pitch has always been a major factor in his success and has been the benchmark for other players to follow," Steindl said.
"He never shirked from putting in the hours preparing, improving his skills and getting fitter, all on top of holding down a full-time job in teaching and I know all of his team-mates held him in high regard."