Jonathan Agnew column

By Jonathan Agnew
BBC cricket correspondent at Edgbaston
Last updated on .From the section Cricket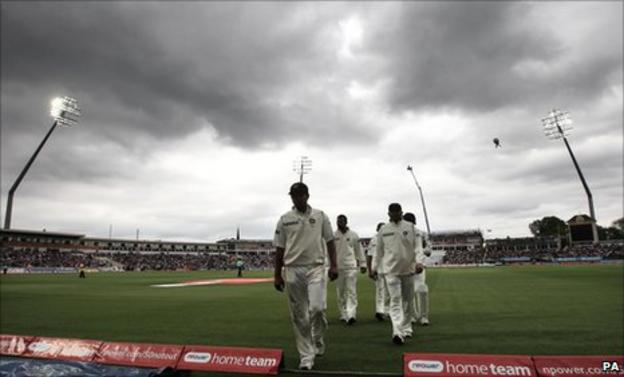 Day three at Edgbaston will be remembered for but unfortunately it was also an occasion when Test cricket made itself look stupid as the absurdity of the bad light rules were exposed once again.
I think light meters are a distraction and they should be binned. You had people paying £70 to be here and it was simply ridiculous to see the players walking off mid-afternoon.
England were on 563-3 at the time, with Cook on 237 and Eoin Morgan on 89, and they walked off with spinners Amit Mishra and Suresh Raina bowling. That is absolutely bonkers.
It probably sounds very pedantic to go on about bad light laws when Cook has done what he has done, but I've been concerned about the rules for some time.
What happens if a team needs 10 to win with half an hour left and nine wickets in hand, but the umpires decide the light has reached the same notch on their meter it reached the day before? There is a real danger of that happening at the moment.
The problem is that umpires set a reading for bad light and believe they must always go off at the same reading.
That is not actually not what the law says. It says you should go off if it is either dangerous or unreasonable to continue playing, and that certainly was not the case today.
I was so incensed that I phoned Dave Richardson, who is the chief of cricket operations at the International Cricket Council, and I gave him a blast.
Unfortunately he was on holiday in South Africa but the anger I felt was clearly felt by most of the people here today.
It makes the game look so stupid and things like that have to stop. In so many other ways, the game is so professional and you don't need moronic things like that to stop people from coming to watch.
The other frustration today was England's rate of scoring, but that is always a problem when people are approaching landmarks and the game loses its focus.
When Cook was nearing his triple hundred, India put the field back and slowed the game down for as long as they possibly could.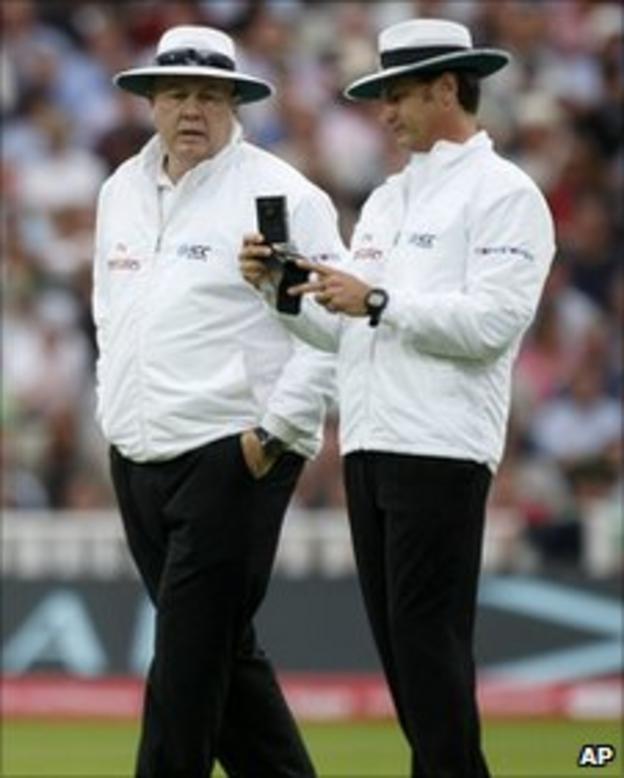 Cook has never been as good when he has to force things and it was sad to see him falling six runs short of becoming England's first triple-centurion for 21 years.
Six runs out of 294 is nothing, but it means everything to an individual and hence his disappointment.
Cook's dismissal at least moved the game along and England will be thrilled that they removed Virender Sehwag before the close.
I actually feel sorry for Sehwag because he has come back from shoulder surgery and had no sort of preparation at all. It was a loose shot but it was a Sehwag shot and he nicked it to slip. That is what happens.
It was a great start for England and it was very interesting to see the ball turning sharply in that final session. It is going to be very difficult for India to bat the day out on Saturday.
Meanwhile, the power cut in the Edgbaston press box certainly led to some fun and games for the TMS team as we actually broadcast the next half-hour of play from three different places.
I had to revert to the back of the engineers' room in near darkness, Blowers was in a broadcasting cubicle three or four blocks away and then CMJ went on air somewhere else, before things were eventually sorted out.
These things happen more often when you are away and you have to do things hurriedly. But it is a bit of an embarrassment for Edgbaston.
They have had a very good match so far, but that was a little reminder that you have to make sure everything is right before you stage a Test match.
Aggers was talking to BBC Sport's Sam Sheringham.
Listen to Jonathan Agnew review the day's play with Geoff Boycott on the TMS podcast.