Jonathan Agnew column

By Jonathan Agnew
BBC cricket correspondent at Edgbaston
Last updated on .From the section Cricket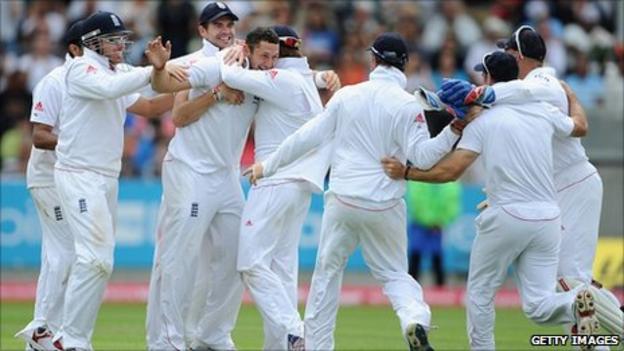 I remember when the world rankings first came in people were a bit sniffy about them. They saw them as an ICC gimmick to try to drum up interest in Test cricket and wondered if they would ever mean anything.
I supported them as I felt we did need to give more context to all the Test cricket that was taking place around the world. And now that England are top I think it is a fantastic achievement.
I have seen England rise from the very bottom, from an absolutely dire operation to the brilliant, professional unit they are now.
My first encounter with England was in 1991 when Graham Gooch's men toured Australia. It was a shambles - the first of any number of diabolical performances.
England were a laughing stock, and at the end of every summer and every winter there would be a phone-in show on 5 live debating why English cricket was so bad.
More recently, I think the biggest turning point came against the West Indies a couple of years ago when they got bowled out for 51 in the immediate aftermath of the Pietersen-Moores business.
Andrew Strauss had had the captaincy thrust on him and Andy Flower was in temporary charge.
I remember Flower giving a very commanding press conference by the pool at the team hotel in Jamaica.
He basically set his stall out to be the coach and you can chart the progress from that point because they went on to win the Ashes that summer and have gone from strength to strength ever since.
They are World Twenty20 champions, the have won the Ashes home and away and they are top of the Test rankings.
You can throw praise all over the place, but I don't think Flower gets enough of it. He has been at the front of all of this. He didn't take it on at the top, he took it on at the bottom, but he has got England here in two years.
There has also been a massive amount of investment in this team, the resources behind them and all the training facilities. There is no other team in the world that is supported financially like this one.
The challenge now is to stay number one and that should be a motivator in itself. They are not wannabes. They are the team that people want to beat and you have to live up to the standards you have set.
The big challenge will be to still be number one at the end of this winter. They have five hard Tests in conditions that will be difficult. But they are at the top of the ladder at the moment and they have to stay there.
They are such a professional unit and I'm sure in five years time they will be even more professional because they keep stretching boundaries and improving.
They are incredibly fit and lean human beings. They are athletes not cricketers now and they work astonishingly hard. They are always working, always training and that is what makes them so good.
They are not on their high horses, they are not prima-donnas, they are genuinely nice lads and that is why all of us who work close to the team have such respect for them.
Aggers was talking to BBC Sport's Sam Sheringham.
Listen to Jonathan Agnew review the day's play with Geoff Boycott on the TMS podcast.