Mahendra Dhoni admits India have been outplayed by England
Last updated on .From the section Cricket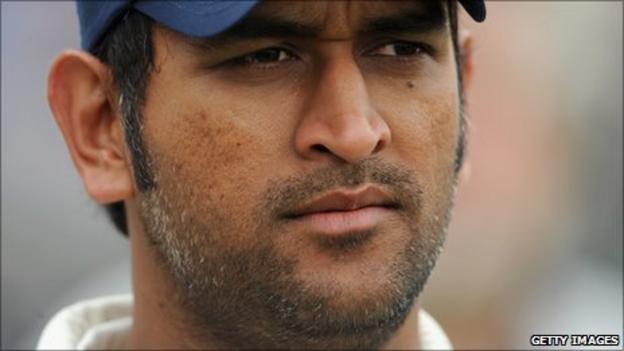 Captain Mahendra Dhoni admitted that India have been thoroughly outplayed in the Test series against England.
Despite arriving as the world's top-ranked team, Dhoni's side have been comprehensively beaten in all three Tests so far and will lose the top ranking to Andrew Strauss' side.
And Dhoni conceded: "You have to be at your best when you are playing against top nations.
"We have been completely outplayed in the series so far."
With only next week's fourth Test at The Oval remaining, India have only pride to play for.
However, the series results so far - progressively one-sided wins for England by 196 runs, 319 runs and an innings and 242 runs - point only to England completing a 4-0 victory.
And Dhoni, who was the sole India batsman to offer any real resistance at Edgbaston, with a half century in each innings, added: "Our batting hasn't clicked - we haven't been able to put par runs on board.
"Both batting and bowling must click together, and it has been a standard example of being outplayed by a good international side.
"We were not really up to the mark in this series and the margin of defeat is only getting bigger and bigger.
"There are areas where we need to improve as a side, our bowling and batting department has not really clicked in this series."
However, speaking to BBC Sport, Dhoni, whose side host England in one-day internationals this winter, insisted his side would fight back.
"This team will bounce back. It hurts to lose each and every game - every time we lose a game, irrespective of whether it loses a series, it hurts," he told Test Match Special.
And Strauss hinted that India could provide a much tougher challenge if they manage to regain confidence.
"We've had to earn the right to get on top," he told Jonathan Agnew.
"Confidence goes two ways, we've got more and they've got less as the series has gone on. When we've got on top we've been pretty clinical."
Listen to Jonathan Agnew and Geoff Boycott's review of the final day's play on the TMS podcast.