England coach Andy Flower targets 2015 World Cup
Last updated on .From the section Cricket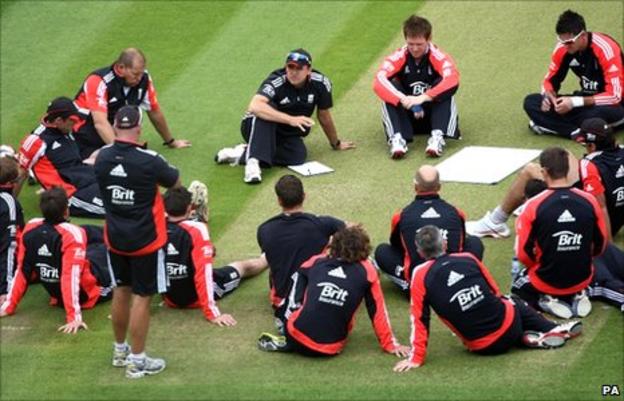 England coach Andy Flower highlighted the World Cup as a new target after his side became number one in the Test rankings at Edgbaston on Saturday.
They beat India by an innings to take a 3-0 lead in the four-match series.
However, Flower insisted: "There's no way our goal will be just trying to maintain that status. We've got to have something more exciting than that.
"England has never won a 50-over World Cup so 2015 is something we've already started planning towards."
Since Flower was appointed full-time England team director in 2009, the team have not been beaten in the nine Test series they have played, winning eight and drawing 1-1 in South Africa.
Their limited-overs form remains inconsistent, however, and although they won the World Twenty20 last year, they are currently ranked only the fifth best one-day international team.
Flower will not travel with the England squad to Dublin for the one-off one-day international on 25 August as the ECB look to manage his busy workload. Assistant coach Richard Halsall will stand in as team director.
After a 10-wicket defeat against Sri Lanka in the quarter-finals of the 2011 World Cup, Andrew Strauss retired from one-day cricket to focus on the Test side, with as the team builds for the 2015 competition, which takes place in Australia and New Zealand.
Swing bowler James Anderson told BBC Radio 5 live's Sportsweek: "Every nation wants to be number one in all forms of the game but it very rarely happens that way.
"We have conquered one step and we are the best Test nation in the world at the moment. Now we can push everything else forward hopefully."
Anderson, who has only South African fast bowler Dale Steyn ahead of him in the Test bowling rankings, is seventh on the all-time list of England Test bowlers with 237 wickets from 62 matches.
Regarding Flower's influence on the team, the 29-year-old said: "When he came in, he sat us down and showed us exactly what we needed to do to become number one in the world and that pretty much meant not losing a series.
"The biggest thing for us is that we've concentrated on each Test match as it has come along, and little sessions of that match, so we've concentrated on the small things with the thinking that the bigger outcome would take care of itself.
"He has given us a lot of responsibility - on and off the field - and has treated us like adults.
"He's helped us throughout the team and really does push us in practice. He's very, very tough but he does it for one purpose only and that's to improve us as cricketers and as a team"
As England target their first Test series whitewash over India since 1974, Anderson added: "We want to leave a legacy and be one of the best England teams there ever has been."