Geoffrey Boycott on England assuming the number one Test ranking
Last updated on .From the section Cricket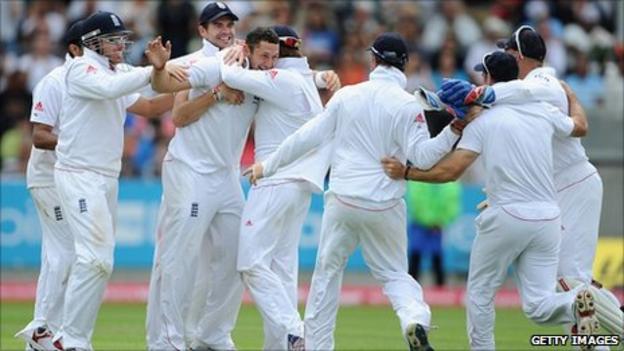 Speaking on the TMS podcast, Geoffrey Boycott assesses the England team and looks at the challenges ahead.
"England have made it to number one and they deserve it. I've seen them progress and get better, I thought they were pretty good when they beat Australia at home then when they beat them away, well that was special. I expected them to beat India but not so comprehensively.
"There have been a lot of factors. The planning and preparation are better and England have a lot of good athletes who field well.
"England have bowlers who can take 20 wickets. There aren't too many pitches that turn so it's seamers that win matches and we have a number of bowlers who can come in like Onions and Tremlett while Broad is developing and Anderson has always been there.
"Tim Bresnan has also come on, I thought he'd make an excellent one-day player but he's stepped it up to Tests.
"Australia will come back because they prepare well - they've shown the way with that and were doing it first but their back-up isn't as good as ours at the moment.
"The only question with our side is over Morgan in the later middle order. He's getting runs in a successful side but pressure will come. Everything else is good, Trott and Cook provide a platform and then late middle order players like Prior and Broad bat well and Bresnan and Swann can bat.
"They can get England out of trouble, there's a lot of depth in the team and, yeah, they're pretty good.
"I don't think they can progress too much and they need to keep standards up but with what's around I don't see difficulties.
"South Africa will give us a good test because they're a pretty good side, I don't think they'll wilt like India, then a big test comes in 2013 when we're playing India in their conditions with low pitches that don't help the seamers and we'll see if they've regrouped.
"They might be interesting series but the rest of the teams - I don't think they'll give too many problems if England keep their standards up as I think they will.
"And I expect England to beat Australia when they come in 2013. I'm looking forward to that, three Ashes series in a row where we win. That's something to look forward to, that will be nice."
Geoffrey Boycott was talking nto Jonathan Agnew on the TMS podcast. Listen to more reaction from Edgbaston