Nottinghamshire's Alistair Brown to retire at end of season
Last updated on .From the section Cricket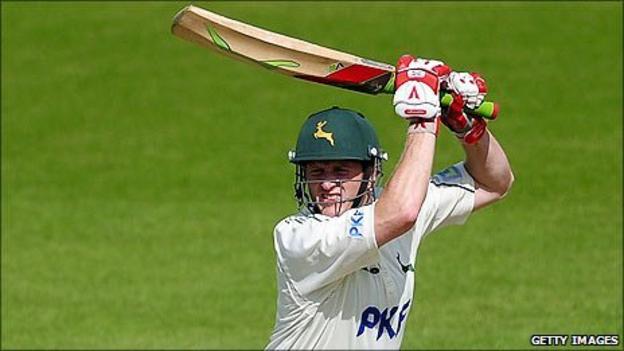 Nottinghamshire batsman Alistair Brown has confirmed that he will retire at the end of the current season.
Brown, 41, signed a one-year deal for 2011 but always intended it to be his last in professional cricket.
The ex-England one-day international joined Notts from Surrey in 2009 and scored 16,898 first-class runs.
"I always believed that the day my age exceeds my batting average it would be time to consider calling time on my career," Brown said.
"I've made a lot of lifelong friends at Trent Bridge and The Oval. I've had a very enjoyable career at two great clubs and I've managed to win Championships at both of them, which is something I could only dreamed of when I started my career.
"I'm available for all selection until the end of the season and hopefully I will have an opportunity to turn out for one final match at Trent Bridge."
Brown made 16 appearances for England in in one-day internationals
Nottinghamshire director of cricket Mick Newell said: "I knew that we were signing a quality player when Ali Brown became available.
"And although it was clear that he was in the twilight of his career, he has made a big contribution here and will be remembered for his efforts in helping to win the Championship last season.
"He has an awful lot to offer to the game and I'm sure his coaching ambitions will benefit from the perspectives he has gained throughout his career."