Van der Merwe back in Irish squad to play England
Last updated on .From the section Cricket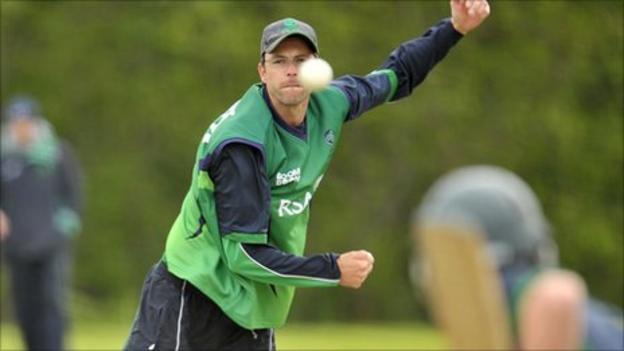 Albert van der Merwe returns to the Ireland squad for the ODI against England in Dublin next Thursday.
The YMCA spinner is back after an elbow problem while Trent Johnston (knee) and Alex Cusack (back) have also recovered from injury.
The 14 players in the squad featured for Ireland in the World Cup, where they produced a shock victory over England in Bangalore.
The game at Clontarf will be England's first ever match in Dublin.
"I'm sure England will be coming with revenge very much in their minds following the World Cup," said Ireland coach Phil Simmons.
"The days of teams coming over to Ireland and taking us lightly have long gone - we've earned their respect with our performances over the past decade, and I wouldn't have it any other way.
"Everyone wants to play in this game and it's great that I have a fully fit squad to choose from."
Irish skipper William Porterfield is confident his side will be no pushovers for the world's number one Test team.
"This is the game everyone in Irish cricket has been talking about, and really looking forward to," said the opener.
"It's been a sell-out for five months, and there's sure to be an incredible atmosphere at the ground.
"We've long shaken off the enthusiastic amateur tag - there's now eight of us plying our trade in county cricket, and turning in consistent performances.
"We're all aware we've lost the element of surprise, and also that there's now a real expectation from the cricketing public on us to perform.
"We're confident that we have the players in this squad to do just that, although we do realize that it won't be easy against an England team showing such great form against India at the minute."
Ireland squad: William Porterfield (Warwickshire, capt), Alex Cusack (Clontarf), George Dockrell (Somerset), Trent Johnston (Railway Union), Nigel Jones (Civil Service North), Ed Joyce (Sussex), John Mooney (North County), Kevin O'Brien (Northants), Niall O'Brien (Northants, wk), Boyd Rankin (Warwickshire), Paul Stirling (Middlesex), Albert van der Merwe (YMCA), Gary Wilson (Surrey, wk), Andrew White (Instonians).