Sachin Tendulkar: Reaction to his 100 international hundreds
Last updated on .From the section Cricket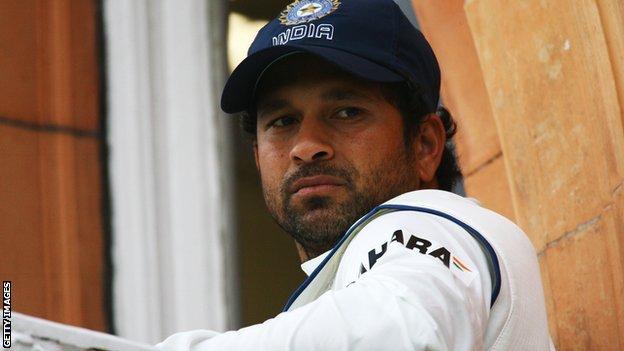 Sachin Tendulkar has underlined his legendary status in the game by becoming the first batsman to score 100 international hundreds.
India's "Little Master" scored his first century against England at Old Trafford in 1990, aged just 17.
His century against Bangladesh in the Asia Cup took the 38-year-old to 51 Test centuries alongside his 49 one-day international tons.
Here, former team-mates and opponents take stock of Tendulkar's unique achievement.
ANDREW STRAUSS, England Test captain since 2009
"It is an amazing feat by an amazing cricketer.
"Sachin is a player by which all others are measured over the last 10-15 years, and for him to go out and get a hundred hundreds is an amazing achievement without precedent - it's unlikely to be achieved again.
"It shows a rare combination of an amazing skill, huge application, great drive and desire and keeping a calm head when there are huge expectations on his shoulders.
"He's generally a player I like to see the back of [when we are playing against him]. His application and technique, unbelievable technique and ability to pace an innings, but when playing competitive juices flow over and you want him out.
"He is the batsman I've most enjoyed watching during my time in the game."
ALASTAIR COOK, England one-day international captain 2011-
"It is an incredible effort. Not many people have scored 100 hundreds in first class cricket but to do it in internationals and under that kind of pressure is a phenomenal effort. He's a truly wonderful cricketer.
"To score 100 hundreds you don't just have to be an unbelievable player you need to be able to do it for a huge amount of time.
"He's played international cricket for more than 21 years and with all that expectation in India that makes it doubly hard. A true great of the game.
"I can't see that being beaten - it's a phenomenal effort. Records are meant to be broken but I don't think I'll see someone score 100 hundreds in international cricket again."
SOURAV GANGULY, India captain 2000-2005
"His is simply terrific. His record says everything - the number of years he has spent in the middle and the number of runs he has scored for India. He has shouldered the responsibility.
"For me he is the best ever. I never saw Don Bradman but from all the cricketers I have ever seen he is the best ever.
"He was very easy to captain. He is an easy-going person, who is focused on his game. He has very middle-class values. He knew where he stood, had his feet on the ground and made my job easy.
"What makes him stand out is his ability, his balance, his hunger for runs and his technique. He just looks at ease on any surface.
"As long as Sachin keep scoring runs, I think he will keep playing for India. I don't think there is any age limit, as long as he keeps getting runs and enjoys it, why not."
MICHAEL VAUGHAN, England captain 2003-2008
"If you were to draw a batsman, you would draw Sachin Tendulkar, just because of the manner in which he stands. He is very still, he has got all the shots, and I think the biggest thing is that he has dealt with the pressure of being who he is and the expectation levels of a billion people every time he walks to the crease in incredible fashion.
"He is very pleasing on the eye when he bats. There are not many people who can hit the ball so hard with such pure technique. I would put him as the greatest I played against because of what he has had to deal with and the expectation.
"He can't walk down the streets of Mumbai without getting mobbed, he can't go to any restaurants. It must be pretty lonely inside his house. I guess that's why he spends a lot of time in London, where he feels he can get away from it.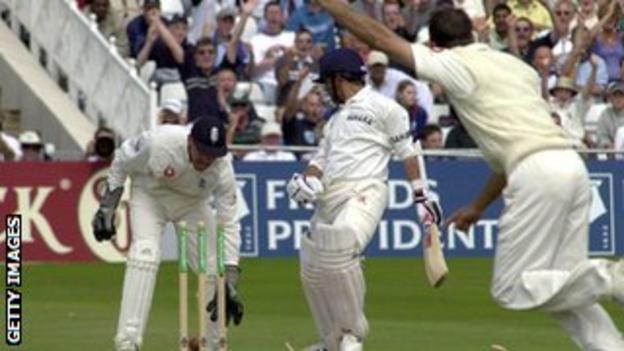 "I don't think I ever played against Sachin at his best. He got a decent hundred or two in one-day cricket and a good hundred in India but in England in particular I don't think I have seen him at his purest.
"In Australia he always used to score good runs against a very good Australia side. He also took the West Indies on when they had a barrage of four pace bowlers and played the pull shot, hook shot and drive with as much ease as anyone has in the last 20 years.
"He is very humble, very nice to talk to and he will always give you time to have a chat. And he loves playing the game. He gets that buzz and energy from just playing cricket.
"Brian Lara, Ricky Ponting and Tendulkar are all similar in terms of talent and the skills they produce. But Lara and Ponting didn't go to the crease with a billion people stopping what they are doing, thousands of them looking through the windows of shops just to get a vision of him. Lara and Ponting were special but because of what he's had to deal with I think Tendulkar just pips them.
"I don't know if the hundred hundreds achievement will ever be matched. To think he made his debut in 1988 - 23 years at the top level, playing all forms of the game. It's a phenomenal achievement. I just don't see how someone would do that now. It's getting harder and harder and I don't know if anyone could."
STEVE WAUGH, Australia captain 1998-2004
"It's always a tough question. Of our era, you couldn't really pick between Sir Viv Richards or Javed Miandad and then you go to Brian Lara and Sachin Tendulkar a little later on.
"For longevity and consistency and what he's done for his country, for 1.2 billion people, with so much pressure, he's an amazing player.
"But I would certainly put Lara on a par. When Lara was switched on and really wanted to do something, he was the most dangerous batsman I've ever played against, he was almost impossible to bowl to.
"Tendulkar, you know every time you play against him it's going to be hard work, but Lara was hot and cold. Generally very hot against Australia, but he was cold against some of the other player nations where he didn't respect the attack enough. He needed a challenge to get the best out of him."