Jonathan Agnew column

By Jonathan Agnew
BBC cricket correspondent at The Oval
Last updated on .From the section Cricket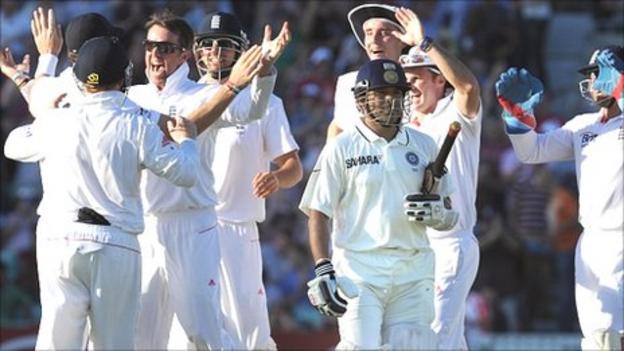 Another poor day for India began with an awful mix-up after the very first delivery when the slips managed to fumble the ball and ended up having to sheepishly retrieve it from behind the wicketkeeper.
It just went downhill from there and once again they were very disappointing in the field, with lots of fumbles and very little energy.
What really struck me was the fact that during the rain delay not a single Indian came on to the ground to practise. The sun was beating down for the last half hour and England went our there for a good warm-up, but the Indians were nowhere to be seen.
They may have gone into the indoor nets but when the sun is shining like that, you should get out, have a jog and get yourself geared up and mentally focused on what you've got to do.
After that, I'm not surprised England declared and I'm not surprised India lost two quick wickets.
If you are a dominant side in a Test series these days there is no respite for the opposition. They are back-to-back games and you can't go away for a bit and get it out of your mind. You can't go off and play a couple of first-class games - you have got no escape.
So just as England's batsmen have been all over India's bowlers, the home side's bowlers have been all over the tourists' batsmen.
It is actually a disappointing aspect of modern Test cricket and you will get more and more series that are one-sided like this.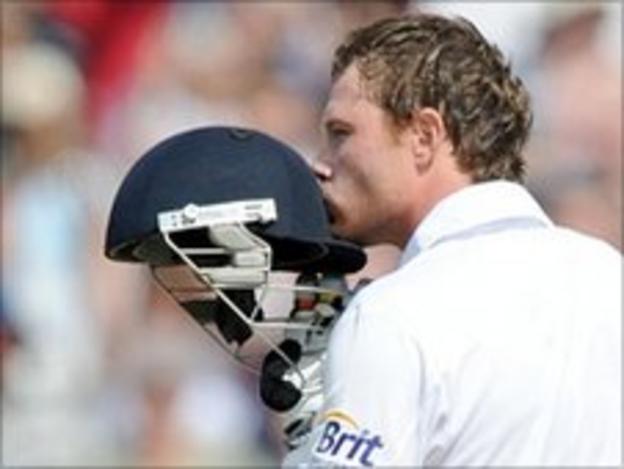 India's worry is that Graeme Swann is getting not just spin but bounce and even though there has been so much time taken out of the game, they will have to do very well to save it.
Earlier in the day, Ian Bell played beautifully, just carrying on from where he left off to reach his first double-hundred.
Eoin Morgan, on the other hand, is struggling a bit. He was dropped twice at Edgbaston on his way to a hundred and then helped himself to 70 at Trent Bridge against some absolute "help yourself" second-rate spin bowling before falling to his second delivery with the second new ball.
He chased after a ball from Sreesanth today and there are still question marks about him against quality seam bowling.
Ravi Bopara at least had a chance to get in and it was nice that he didn't fail. Whether it is enough to get him on a winter tour I don't know. They may go for someone like James Taylor because you do have to reward performances in county cricket or there is not much point in playing it.
There are plenty of promising county players in the England one-day squad to play Ireland next week, but I'm very surprised that Alastair Cook hasn't been included.
He has only just become one-day captain and these are the players he is going to be leading over the next five or six years.
He won't be playing in the Twenty20 against India so he would have had a bit of a break anyway.
Every decision England make seems to pay off but this is a very surprising one.
Aggers was talking to BBC Sport's Sam Sheringham.
Listen to Jonathan Agnew's interview with David Cameron from day two.