India need to regroup, says captain Mahendra Dhoni
By Mark Mitchener
BBC Sport at The Oval
Last updated on .From the section Cricket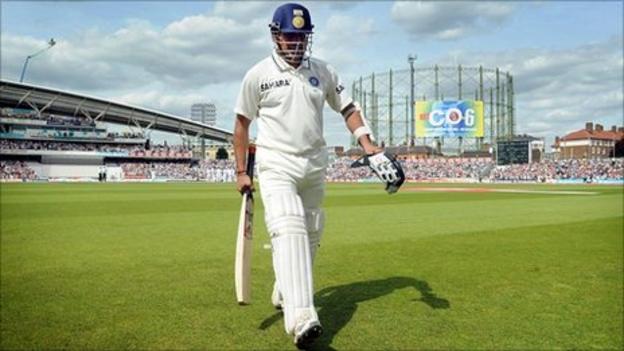 Captain Mahendra Dhoni acknowledged that his India side "need to regroup" as they suffered a 4-0 Test series defeat by England.
Sachin Tendulkar and Amit Mishra held out until after lunch, but India lost their last seven wickets for 21 runs.
Dhoni told Test Match Special: "You have to be at your best when you play one of the best teams in the world.
"But we weren't able to build a partnership after Mishra and Sachin - we need to regroup and come back well."
The International Cricket Council mace, signifying the number one team in the ICC's Test rankings, was handed to England at the post-match presentation at The Oval, symbolising their ascent to the top in place of India.
The Indian fans who poured into The Oval on Monday morning did so with the faith that their side might save the game, and the hope that their idol Tendulkar might make a historic 100th international century - but once the Tendulkar-Mishra stand was broken, England offered no charity as they wrapped up another innings victory before tea.
Tendulkar is hero-worshipped by Indians at home and abroad, but fell to Tim Bresnan on 91, following a marginal lbw decision, precipitating a collapse when the tourists had looked like saving the game.
Dhoni added: "We gave ourselves a good chance with Mishra and Sachin. Sachin is disappointed, but he doesn't worry too much about milestones.
"Expectation levels are high at home, but at times you can be outplayed at the top level. England always put a good score on the board and we weren't able to make over 300 in any of the four matches.
"It's important we stay together as a unit, that's the way ahead. We are not willing to surrender and we hope the coming years will be good."
The India skipper also paid tribute to "brilliant" batsman Rahul Dravid, who hit three centuries in the series and carried his bat in the first innings at The Oval.
Dravid, who made an unbeaten 146, said: "We expected a tough series but England outplayed us, they are deservedly the number one team in the world.
"But it's been good to come back here, we've seen packed houses and it's been great for Test cricket.
"You have to compliment the England bowling attack, as they are at the top of their game and bowled beautifully.
"I take some satisfaction from doing well against a good attack, but obviously it was very disappointing to lose the series."
Dravid, who will retire from one-day internationals after his shock recall for the forthcoming ODI series against England, added: "It will be nice to spend another three weeks in a country I really enjoy, and these one-dayers may be the last time I play in front of these fans."
With Zaheer Khan, Yuvraj Singh and Harbhajan Singh having already left the tour squad with injuries, India announced on Monday that batsman Virender Sehwag and paceman Ishant Sharma would miss the ODIs because of injury.