Peter Moores expects intriguing T20 finals day contest
Last updated on .From the section Cricket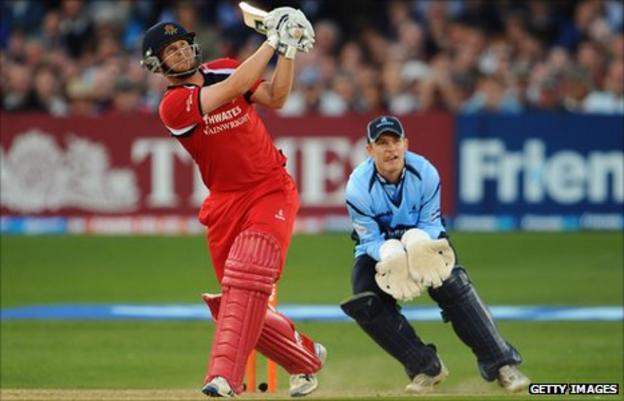 Lancashire coach Peter Moores is expecting an intriguing semi-final against Leicestershire to launch Twenty20 finals day at Edgbaston.
"It will be a tough game," said Moores. "No side gets to finals day without playing some really good cricket."
Both have beaten each other once this season in the game's shortest form.
"We had two interesting games against Leicester," Moores told BBC Radio Manchester. "But we beat them down at theirs, eventually quite comfortably."
With Lancashire currently top of the County Championship, former England international Sajid Mahmood says confidence will be flowing as they seek the added prize of a Champions League in India just by reaching the final.
"If we play to the best we can and nail our plans down in every form of the game, we'll come out on top," said Mahmood.
"The preparation we're doing, and the way we're hitting and bowling balls to specific plans, everything is falling into place quite nicely."
"All the lads are pretty confident as we've seen the opposition that we could be facing if we get through to the finals."
Lancashire beat Sussex by 20 runs in the quarter-finals to progress to Edgbaston, where they will be the only side playing that have never won the competition.
This is the fourth time the Red Rose have reached finals day, but they have only made the final once, in 2005, when they lost by seven wickets to Somerset.
Although batsman Stephen Moore is the third highest run scorer in this season's competition, Lancashire's batsmen have not particularly performed.
Instead, their bowling has been the highlight, spinner Gary Keedy having emerged as Lancashire's leading wicket taker with 19 (and best figures of 3-14), while Stephen Parry, Farveez Maharoof and particularly Junaid Khan have also weighed in with important spells.
Khan's absence, due to playing for Pakistan 'A', will be a huge loss especially in the death overs, with club captain Glen Chapple expected to come into the reckoning in his place.
"The pressure will increase over the next few weeks," said Chapple. "There is no escaping that. But the way to deal with that is to have belief.
"The way we've been going it's falling into place nicely so we've just got to keep that going."
Lancashire squad: Chapple capt, Agathangelou, Brown, Clark, Croft, Cross, Horton, Keedy, Kerrigan, Mahmood, Maharoof, Moore, Parry, Procter, Smith.