Worcestershire's Matt Mason awarded a testimonial year
Last updated on .From the section Cricket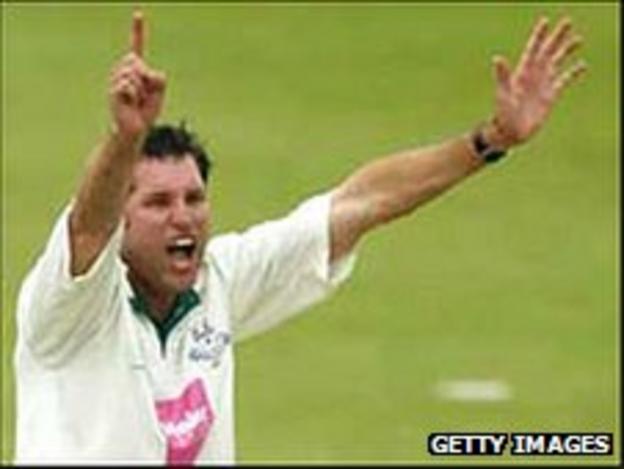 Worcestershire have announced their former fast bowler Matt Mason has been granted a testimonial year in 2012.
The 37-year-old retired from playing this summer due to injury and is now focusing on his role as bowling coach.
He told BBC Hereford and Worcester: "What's particularly nice is that you are nominated by the membership.
"That is really important to me as they are the guys who pay to come and see you play every year and obviously they have seen what I have tried to do."
Mason joined the New Road staff under former director of cricket and fellow Western Australian Tom Moody in 2001 although he admitted he initially turned down the opportunity.
"When I played for Western Australia Tom was captain but they weren't a lot of opportunities there so I had a very short career there," he said.
"I came to England to play a bit of club cricket before moving on to finding a real job back in Australia.
"But Tom collared me and said: 'Do you realise that because of your passport you can play here as a local player?' but I turned him down.
"I had made up my mind that cricket wasn't for me and went back to Perth but he stumbled across me again and asked if I would reconsider so I decided to give it one more go," he added.
Mason holds an Irish passport and this led to an 11-season playing career at New Road during which time Mason took 314 first-class wickets at an average of 26.91.
A persistent shoulder problem led to Mason's retirement from playing in June and he is now fully focused on his role as bowling coach.
"In the next couple of years when the likes of Alan Richardson and Gareth Andrew retire I guess my most important role is to make sure we have always got a continual resource of young bowlers," he said.
"They have got to be ready - Richard Jones has shown throughout his career just how tough it can be to be to become that finished article.
"He has come on really well at the end of this year again and we need to keep seeing him progress just like we do these younger bowlers.
"Tom Friend is an example while Nick Harrison is another great prospect and we just need to keep finding and developing them."