Stephen Moore column

By Stephen Moore
Lancashire and England Lions batsman
Last updated on .From the section Cricket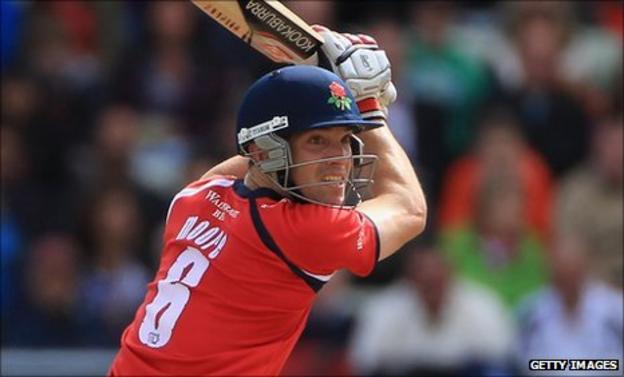 When I started writing this column it was centered on the Friends Life t20 finals day in Birmingham.
However, the last fortnight has given me a new perspective on how things on and off the cricket pitch can change in an instant.
A friend of mine suggested in a message to me that I might be the only father in history to be officially described as 'absent hurt' during a cricket match.
This occurred during our Championship match in Worcester when I rushed away to attend the birth of my first child, a beautiful girl called Emilia.
As if scripted, I arrived the moment she was born, spending the most peaceful and emotional time with her, before jumping in my car in a vain attempt to make it back to New Road to help my side avoid defeat.
Forty miles from Worcester I got the call to turn around as we had been bowled out. Some of my former team-mates later voiced to me that they always knew my wife was still Worcestershire through and through.
As I sped up and down the motorway passing Birmingham, several times, my mind was cast back to the previous weekend and FL t20 finals day.
It is not often as a county cricketer that you get to play on a Test ground with an atmosphere to match, and finals day at Edgbaston did not disappoint.
After winning seven matches in a row to qualify we were in high spirits and had good momentum going into our semi-final against Leicestershire.
However, as is the case when you get to this stage in the competition, winning and losing is on a knife edge.
There is no easy game, with each side undergoing 17 gruelling matches in order to book their place in Birmingham.
Unfortunately the Great British summer did its best to disrupt proceedings, but the crowd was stoic as only the English can be, dressed in all manner of regalia, and they were rewarded with not one, but two 'super-overs'.
The rapid fluctuations in pressure put on the batsmen and then the bowler is something I have never experienced before.
It was an emotional rollercoaster, thinking you are going to win, to believing you have lost, to complete confusion as players, coaches, umpires and administrators try and come to some kind of coherent order for proceedings.
Our disappointment was palpable in the changing room after losing, but having experienced such an extraordinary day, everyone in our squad can only grow as individuals, making us an even better side in the future.
Although I missed the second innings in Worcester, it was a disappointing week for us as a side, but not fatal for our Championship ambitions.
In hindsight, it has made for a final week of cricket where three sides could realistically win the Championship trophy.
Our opportunity arrives after yet another incredible game at Aigburth. With four minutes left in the match, we managed to take the last of Hampshire's wickets and secure the win that keeps us in the race.
If we manage to take the final step to major silverware this week, then it will join the list of pulsating matches this season that has defined our summer.
For me, it might be several months before I come to terms with my last fortnight, but I am sure Emilia will be subjected to endless bedtime stories recounting a season like no other I have ever experienced.
You can follow Stephen Moore on Twitter at: http://twitter.com/stephen_moore6 (external site)