ICC announces qualifying format for 2015 World Cup
Last updated on .From the section Cricket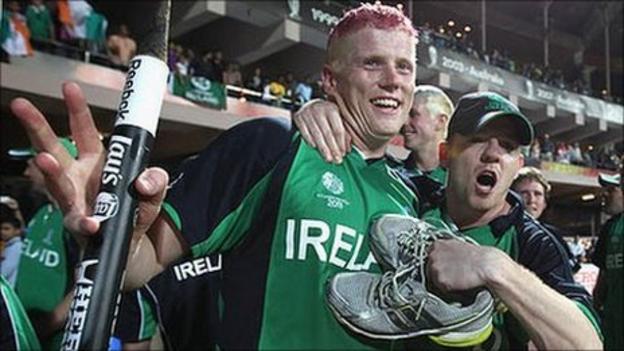 The International Cricket Council has announced the qualifying format for the 2015 World Cup for associate nations such as Ireland and Scotland.
The top two teams from the current eight-team 50-over league competition will qualify automatically for 2015.
Ireland have already made a good start to this competition by earning two wins over Namibia.
The remaining six teams in the league will battle for the two final World Cup slots in a further qualifying event.
In April the ICC announced plans to restrict places at the next World Cup to its 10 full member nations.
As a result the likes of Ireland, Scotland and the Netherlands would not have been able to take part.
But after an outcry the world governing body's executive board announced in June that it was retaining the 14-team format.
That means four nations will join India, Pakistan, Sri Lanka, England, South Africa, New Zealand, Australia, West Indies, Bangladesh and Zimbabwe at the 2015 tournament, co-hosted by Australia and New Zealand.
Apart from Ireland, who beat England in 2011 and Pakistan at the 2007 World Cup, the other nations outside the ICC's full members to qualify for the 2011 event were Kenya, Canada and the Netherlands.
Ireland coach Phil Simmons welcomed Monday's decision, rubber-stamped at an International Cricket Council chief executives' committee meeting in London.
"It certainly gives all the one-day games in the league some extra spice, and there's sure to be some high-pressure games as the league progresses," said Simmons.
"We've got off to a good start beating Namibia twice, and we'll be looking to add to that with wins against Canada."
Former captain Trent Johnston has recovered from a knee injury and will be in Ireland's squad to face Canada in back-to-back qualifying matches at Clontarf next week.