Rory Hamilton-Brown hails Surrey style
Last updated on .From the section Cricket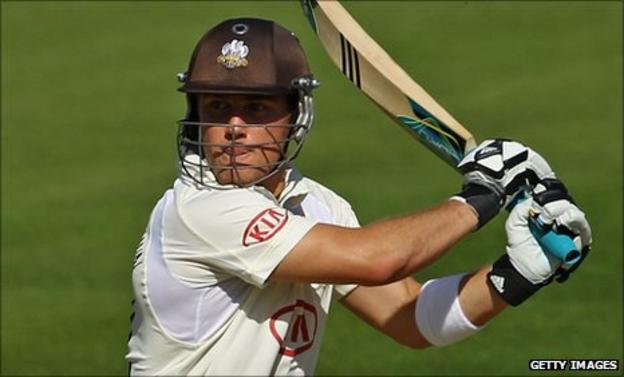 Captain Rory Hamilton-Brown believes Surrey's brand of cricket has been key to them winning their last four Division Two games to clinch promotion.
Hamilton-Brown told BBC London 94.9: "Our brand of cricket is fantastic.
"I hope people enjoy it and I'm sure, if we keep improving, we will be a force to be reckoned with."
He added: "A few people have their doubts and issues about it, but it is there in black and white that we win games that other teams don't win because of the way we play.
"It's something we want to keep improving on because this is going to be the type of cricket that this Surrey side plays."
After winning only four of their opening 12 games, Surrey cricket manager Chris Adams told his side that they needed to win all their remaining fixtures to stand a chance of going up.
But Hamilton-Brown does not believe it would have been possible but for the spirit in the camp.
"Winning four games in a row doesn't happen very often," he added.
"But to turn up knowing you have to win every session to have a chance, to have to win every four-day game has been emotionally draining.
"I think it shows the mentality we have and the camaraderie we have in the dressing room.
"We are a close-knit bunch. I've never experienced anything like it in a team sport."
Before winning the first of their final four games at Leicestershire last month, Adams urged his side to follow the example of Worcestershire by coming out of the pack to win promotion.
"The team had heard a lot from me and Ian Salisbury about what we needed to do and how we needed to do it, and we needed some statistical evidence," said Adams.
"Our analyst, Pete Scott, came up with a great presentation which highlighted what Worcestershire did last year to pip Glamorgan to promotion.
"We were in a very similar situation to Worcestershire. They won three and drew one to get promotion.
"We said that, with the points situation, we probably had to win all four and the way to break that down was take it day-by-day, almost ball-by-ball."