Jon Lewis 'ready for a new challenge' at Surrey
Last updated on .From the section Cricket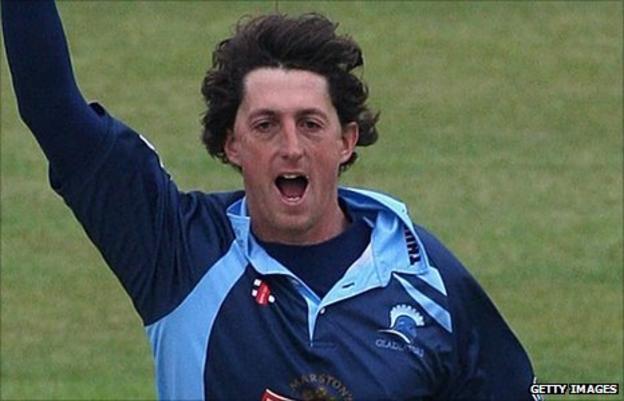 Jon Lewis says he feels the time is right to be leaving Gloucestershire to join newly-promoted Surrey.
"It's an exciting challenge and I feel like it's a new lease of life for me," Lewis told BBC Gloucestershire.
Lewis, 36, played his last game for the county in this week's defeat by Northants, after 17 seasons at Nevil Road to join Surrey on a two-year deal.
"It's time for a change. It was a little bit strange taking the jumper off for the last time," added Lewis.
"But I think what will feel more strange is putting on another jersey next season.
"We are very disappointed. It's a little bit sad to finish on a bad game.
"It would have been nice to finish on a high note. Unfortunately, that's not happened.
"However, that's life. That's the decision I've made and I'm comfortable with those decisions."
Lewis, who joined Gloucestershire in 1995, will leave Nevil Road with the proud record of having taken 771 wickets in 218 first-class matches for the county, having also played in 194 one-day games and 52 Twenty20s.
But, with fellow senior players Chris Taylor and Hamish Marshallhave yet to be offered new deals at Gloucestershire, he is warning that the county need to keep hold of them in order to progress next season.
"Unfortunately, I've had to move on," he said. "And perhaps some of the other senior players will have to move on as well because of financial restrictions, which is a sad state for the club.
"I hope they find some experienced heads to help these young guys. It's very hard for them to learn from their mistakes if there's no one to show them the way.
"I think there's some really promising young cricketers here.
"I wish them the best in the future. They've got the formula right, the fact they are bringing young players through but you do need a blend of youth and experience.
"Hopefully they can move the club forward very quickly for the future."