Peter Moores praises Lancashire 'heart'
Last updated on .From the section Cricket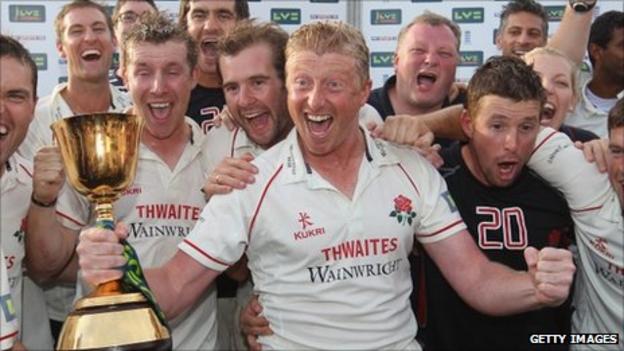 Coach Peter Moores admits that his side gave their "heart and soul" to win Lancashire's first outright County Championship title for 77 years.
"It's been a special year as we had so many tight games," said former Sussex and England coach Moores.
"The lads committed to every day and threw their heart and soul into it."
Lancashire went into the final round of matches in second place, three points behind Warwickshire but secured the win they needed as their rivals faltered.
But Moores, who coached Sussex to the title in 2003 before moving to the National Academy in 2005 and then getting the England job in 2007, has built a real team spirit in his three seasons with Lancashire.
"Different people stepped up when they needed to step up," Moores told BBC Radio Manchester.
"It was a mixture of senior players setting an example and doing it when it really counts, to young players coming in and doing more than you could expect that early in their career.
"Putting a red rose on is special. It's about spirit, it's about belief, it's about skill, it's about hard work and it's fantastic."
Lancashire's Yorkshire-born captain Glen Chapple told BBC Radio 5 live: "We've always tried to say that the 77-year wait isn't an issue and obviously it has been. But these players have shown immense character and played quality cricket and I'm delighted for them all.
"For us and the supporters it's that bit extra special because of the time it's taken to win. We've had great support from the fans. Lots came down to Taunton and we've had a good atmosphere this week.
"It's been a long season full of tense games but we set out at the start of the season to do something most people didn't think we had a chance of doing.
"Today was amazing. The players were full of belief and it was tough to overcome a good team on a flat pitch but we've won something many teams have failed to do.
"I can't say how good it feels, we're going to enjoy it in the knowledge that we've achieved something brilliant."
Lancashire chief executive Jim Cumbes added: "It is fantastic for such a young team as they've worked so hard and I am absolutely delighted for them.
"Winning the Championship has been a bit of a noose around Lancashire's neck for a long time and now to put it to bed is really amazing. It is simply unbelievable."