Brian Rose urges Somerset to 'stand up' in CB40 final
Last updated on .From the section Cricket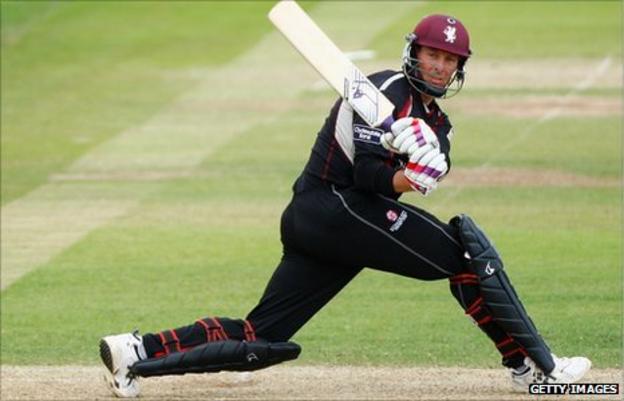 Somerset director of cricket Brian Rose has called for individuals in his side to "stand up" and perform in their CB40 final against Surrey on Saturday.
It is the fifth successive domestic one-day final the county have reached, but they are yet to claim silverware.
The former Somerset captain told BBC Radio Bristol: "I played in a team that stood up on finals day and that's what we need to do.
"It's up to the individual to find the character and the determination."
As a Somerset player from 1978 to 1984, Rose was part of squad that won two Benson & Hedges Cups, the Gillette Cup, the NatWest Trophy and the Sunday League.
But during his tenure as director of cricket they have won just one piece of silverware - the 2005 Twenty20 Cup - and his side now run the risk of becoming county cricket's nearly men.
But Rose insists there is no need for any radical changes for this year's final.
"It's a tremendous achievement by the players - all credit goes to them," he said.
"I know we have not lifted the cups but I still think it's fantastic for the supporters to go to the second successive CB40 and successive Twenty20 finals. It's wonderful.
"I don't think we can do anything different. Our physical approach, our training and coaching, is going to be the same.
"A bit of individual mentoring is going on at the same time - beefing a few people up and giving them some confidence. I think that's all you can do."
Somerset could be boosted by the return of captain Marcus Trescothick, who has been sidelined for three weeks with an ankle injury.
With an average of 40.37, Trescothick has been a key part of their progression in the competition and he believes his side can learn from the disappointment of previous finals.
"All I know is the more times we put ourselves in the environment of the finals, at some point it's going to come through," said Trescothick.
"I'm hoping this will be the one. We had a good chance in the Twenty20 but we obviously weren't quite good enough but it's going to happen eventually."