Lancashire happy in their temporary Liverpool home
By Ged Scott and Andy Toft
BBC Sport
Last updated on .From the section Cricket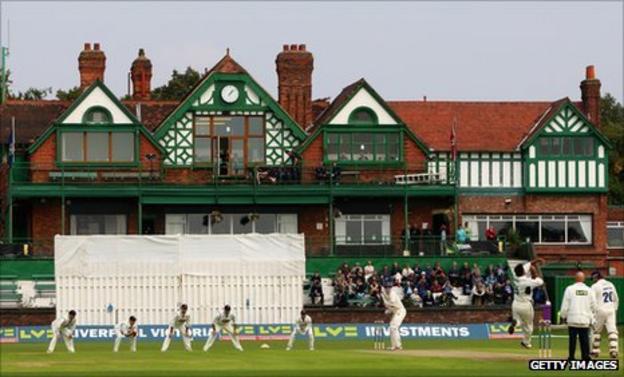 King George V was on the throne, Ramsay MacDonald was Prime Minister, Adolf Hitler had just declared himself the Fuhrer and Liverpool still had twice as many league title wins as Manchester United when Lancashire last won the County Championship way back in 1934.
So how on earth did it take 77 years for English domestic cricket's main prize to return to the county?
What a catalogue of Lancashire greats can be reeled off the tongue when it comes to listing those who, astonishingly, never lifted the County Championship: Ken Higgs, Peter Lever, Harry Pilling, Ken Shuttleworth, David Lloyd, Barry Wood, Jackie Bond, David Hughes, Jack Simmons, Frank Hayes, Paul Allott, Graeme Fowler, Neil Fairbrother, Warren Hegg, Michael Atherton, Philip De Freitas, John Crawley, Andrew Flintoff, not to mention England's latest Lancastrian Jimmy Anderson, who played only a very minor role, taking five wickets in the two early season games he was allowed to play in.
Then there's the list of overseas players who came and went: Sonny Ramadhin, Ian Chappell, Farokh Engineer, Clive Lloyd, Colin Croft, Mick Malone, Michael Holding, Patrick Patterson, Wasim Akram, Muttiah Muralitharan, Saurav Ganguly, Stuart Law, Carl Hooper, Dinesh Mongia, Brad Hodge, Andrew Symonds, Murali Kartik, Nathan Astle, Sanath Jayasuriya, VVS Laxman, Francois du Plessis, Mohammad Yousuf.
Even the great Murali's astonishing haul of 66 wickets in just seven matches in 1999 was not good enough. His team still finished 56 points adrift of Surrey.
Yet, with a totally unfancied team containing Lancashire lads from Bolton, Bury, Blackpool, Preston, Oldham and even Liverpool itself, Birmingham-born Kyle Hogg, who succeeded where his father and grandfather had failed, not to mention three Yorkshiremen (including the captain, Glen Chapple) and a South African/Australian opening partnership, coach Peter Moores defied the odds to lay one of English sport's longest bogeys.
When Lancashire return to their rebuilt home in Manchester to play four-day cricket again next season, the County Championship pennant will once more be flying proudly over Old Trafford.
But, for all the money lavished over in Manchester, are Lancashire doing the right thing in leaving Liverpool?
The main factor in Lancashire's lifetime-long wait for the county title, over the best part of eight decades, has been the Manchester weather.
Statistics have long since been rolled out to show just how many days of cricket are lost at Old Trafford, in the rain shadow of the Pennines, in comparison to other county grounds.
But, by moving to their main 'out ground' at Aigburth, in South Liverpool, they found a home that brought 'results' - four wins, the better part of a draw against a Warwickshire side hanging on eight wickets down, and just one defeat, by Durham.
Admittedly, when Lancashire were the country's one-day kings four decades ago (five trophies in three years), missing out on the Championship was not such a big issue, even though that side did twice come close.
But five second places in the last 13 years had raised the stakes and, when Lancashire won their first three home games in Liverpool, two of them, against Sussex and , by an innings, the unthinkable was already being thought - could they really be victorious in Liverpool in the Liverpool Victoria County Championship?
Moore's men then before returning to Liverpool to draw with the Bears, beating Worcestershire at Blackpool and Hampshire, in such dramatic circumstances back at Aigburth, with just four minutes to spare.
Contrast that with Old Trafford, where five matches were drawn in 2010 when Lancashire ended up just 32 points - less than two wins - adrift of eventual champions Nottinghamshire.
"Aigburth also has its own micro-climate because it's so close to the Mersey," explains BBC Radio Manchester's Liam Bradford. "It doesn't get as much rain as Old Trafford."
But he also points out two other factors.
"With the reduction of points available for a draw more counties are preparing results pitches and also, because Old Trafford is a Test ground, the pitches are designed to last five days so do not deteriorate as quickly as others elsewhere. Aigburth is not quite the same quality of pitch."
So why not do it again?
Way back in 1935, when Lancashire last defended their title, they finished fourth with nine draws and an entire day's play was lost in the home games against Glamorgan, at Blackburn, Yorkshire and Surrey, not to mention the Kent game, in which play was severely hampered over the first two days.
Fast forward to the year 2000, in the first year of two-division cricket, when Lancashire finished second, 20 points behind Surrey.
Against Derbyshire, no play was possible on the last two days, by contrast with Surrey, who played to a finish and beat Hampshire.
Even in that year's Championship decider against Surrey, the entire third day was lost to rain, whereas in Lancashire's annual trip to Aigburth, Lancashire beat Hampshire by an innings inside three days.
It was the same story in 2003, when Lancashire finished second behind Sussex, with eight draws to the champions' two.
And, in 2006, when Lancashire again finished second to Sussex, coached ironically by Moores, with nine draws to the Hove club's five, the weather played havoc with the last four games, three of them on home soil, which left chairman Jack Simmons joking about re-locating to the south coast.
In reality, the answer is a lot simpler. Lancashire does have a coast of its own. So leave Old Trafford for Twenty20, Test matches and pop concerts. And move the stuff that really matters to Merseyside!