Jonathan Agnew column

By Jonathan Agnew
BBC cricket correspondent
Last updated on .From the section Cricket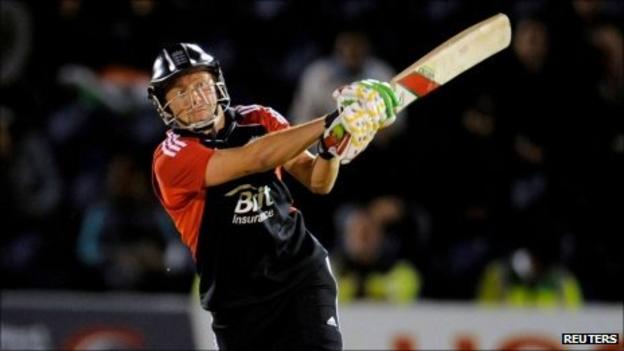 Jonny Bairstow has to go on the winter tours after .
That was the most exciting entrance to an international career I have seen from anybody.
It was not just the runs that he scored, it was the character he showed as England chased down their target to win in Cardiff. He was icy cool, his hitting was tremendously clean and his placement was immaculate.
He looked absolutely as if he belonged. To come out and play like that in his first innings was remarkable.
We are going to see much more of him in the future, there is no doubt about that and Alastair Cook and Andrew Flower will be absolutely delighted with their find.
Compare Bairstow to Ben Stokes who wasn't quite able to take his chance and you realise what an absolutely extraordinary performance that was.
I thought the way India's Rahul Dravid shook him by the hand suggested even he thought that was pretty special and I'm sure that was what he was saying to Bairstow at the end.
He has to go on the winter tours - I don't think you could have a more impressive shop window that that. To go out and play like that in such a tense situation with such maturity, coolness and authority was absolutely brilliant.
Other than that, it's not been a series that the fans will look back on too fondly.
England won the series and you can't ask for more than that, however, India deserve credit because it's difficult to come back in a one-day series after a Test defeat.
The weather ruined what has been a low-key series with India depleted of their star players, while England chose to rest Kevin Pietersen.
It is asking a lot of the public to pay for tickets and for them not to see the star players.
You can understand when the players are not fit but the rotation policy is dangerous. The selectors and management will say it is about succession planning but they haven't learnt anything about that in this series.
England have the making of a decent side but because of the weather in this series it is hard to make a solid assessment about the team.
Jade Dernbach is interesting. He is unusual and hard to pick and his variations are good, but I would like to see more orthodox bowling at the start of his spell.
People will start to work him out at this level; they will sit on the back foot and wait and then either guide his quicker ball to third man and fine leg or punch his slower ball back past him.
Stokes, as an all-rounder, should not have been picked if he was not fit enough to bowl. They [England's selectors] will persevere with him though as they have high hopes.
I'm not sure Samit Patel has nailed his place down. He dropped two catches in Cardiff that he should have swallowed which will set off the inevitable talk about his fielding and he didn't bowl well either.
You have to give Jonathan Trott a pat on the back for the way he played in the final one-day game, he keeps confounding the critics.
Alastair Cook needs to be more positive in his captaincy but you can't be too hard on him.
He's had little experience but he has showed during this series that he is learning.
And he can rightly say we're winning games and a win is a win and it gives you confidence so from that perspective, England will take something from the series.
But it is one thing to beat India in these cold, wet autumnal conditions in England. The test will come next month.
Aggers was talking to BBC Sport's Peter Scrivener.