Tim Nielsen steps down as Australian cricket team coach
Last updated on .From the section Cricket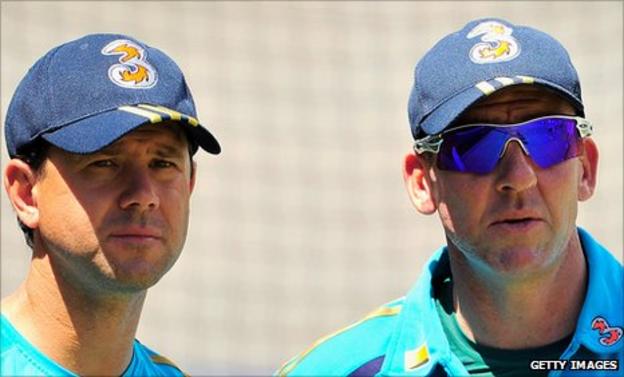 Tim Nielsen has stepped down as the head coach of Australia's national cricket team after four years.
Nielsen, 43, has advised Cricket Australia that he is due to take up a new cricket role elsewhere.
The Australians will now seek to make an interim appointment for the tour to South Africa next month.
"I look forward to the challenges ahead," said Nielsen. "I've no doubt the experiences I have gained will hold me in good stead moving forward."
Chief executive officer James Sutherland congratulated Nielsen on his performance during what Cricket Australia described as a "particularly challenging time for Australian international cricket".
Nielsen replaced John Buchanan following the 2007 World Cup.
He has presided over 15 Test series, nine of which Australia won, but has seen them fall from top of the world rankings to fourth.
During Neilsen's time in charge, Australia have lost two Ashes series, including a 3-1 defeat at home, and relinquished the World Cup that they had won on three successive occasions.
Prior to the 1-0 win in Sri Lanka that they sealed on Tuesday, the Baggy Greens had not been victorious in a Test series since March 2010, however they are ranked number one in the world in one-day cricket.
Sutherland said: "Tim has been coach during a period in which we have had a long list of great champions leave the game, and [there] has been a strong support for new players coming into the side over that period.
"I was delighted when he agreed to renew his contract last year and had encouraged him to apply for the new, expanded and redesigned head coach role that the CA board approved last month after the tabling of the Australian Team Performance Review.
"However, I have spoken to Tim and understand and respect his decision to now begin a new chapter in his professional life."
Nielsen said: "It has been an honour and a privilege to work with the Australian cricket team.
"Throughout that period we have had some great success as well as experiencing some tough times. I've enjoyed every minute of working hard with the group, aiming to give ourselves the best possible chance of representing Australia to the very best of our ability."