Glamorgan captain Mark Wallace ready for winter of toil
Last updated on .From the section Cricket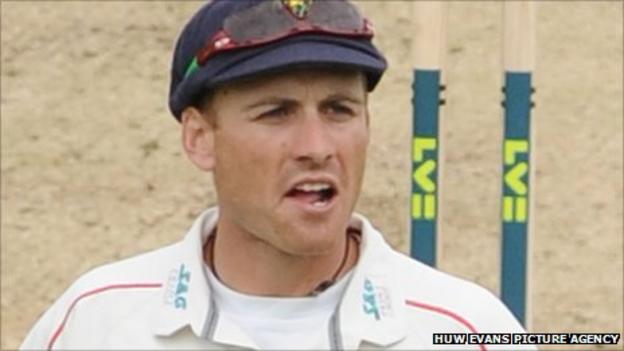 New captain Mark Wallace has said Glamorgan's players face a winter of hard work ahead of next season.
Glamorgan endured a fruitless season, finishing sixth in Division Two of the County Championship and failing to make an impact in the one-day competitions.
Wallace succeeds departing overseas player Alviro Petersen as captain.
"Next season starts almost immediately for us. We'll be looking at ways and means of improving for next year," said wicket-keeper Wallace.
"The planning and preparation for next season has already begun. Cricket is a 12 months of the year profession nowadays.
"I think a lot of the things you do in winter can really have an effect on how well you play the following summer.
"We've got a real team ethos of trying to work as hard as possible this winter to try and make some real improvements for next year.
"We'll back in the gym and working hard indoors to try and make 2012 a good year."
While acknowledging Glamorgan underachieved during the season, Wallace believes the county have improved.
"We have made some improvements this year," said the 29-year-old. "I don't think they've necessarily shown in results. It is, at the end of the day, a bottom line business.
"We've put in some good performances and it's about getting the results now next season. I think we have made some strides. It's about learning from what we've done the last few years.
"We've been in some pressure situations this year without winning the games.
"When we're in those situations next year we should have that experience to be able to push home and get the result."
A review of Glamorgan's playing staff is currently ongoing. Veteran batsman Mike Powell has already been released, while Australian Test batsman Marcus North will join for next season and Will Bragg, Chris Cooke, Will Owen, Mike O'Shea and Nick James have signed new contracts.
Wallace, who made his Glamorgan debut in 1999, is adamant the current players posses the talent and ability to deliver long-awaited success.
"It's about the players standing up and doing it now," he said. "We have got a talented group of players and it is a competitive environment and that's what we want to try and introduce.
"We need to be realistic but as far as in the second division we should be a side that are challenging for promotion.
"We see that as a real goal for us and we can be in a position to qualify for the latter stages of the one day competitions."
Wallace was named as the media's player of the year at Glamorgan's end of season awards.
James Harris won the club's player of the year with Will Owen awarded the young player accolade.
Departing captain Petersen was the players' player of the year and the Championship player of the year, while batsman Gareth Rees was named as the county's one-day player of the year.