A season of ups and downs for Northants in 2011
By Andrew Radd
BBC Northampton
Last updated on .From the section Cricket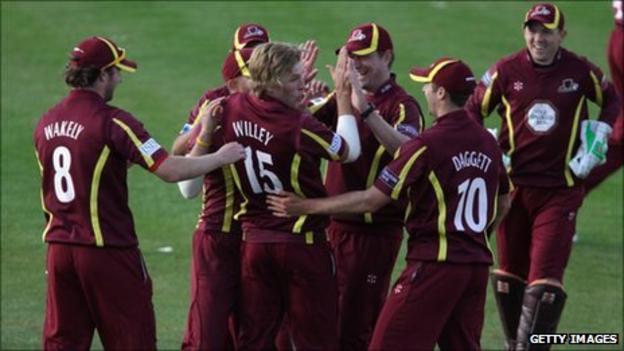 The 'spinners' - of the political rather than the cricketing variety - would have a field day on Northants' 2011 campaign.
Had you asked supporters at Wantage Road before the season began whether they would settle for a Championship promotion challenge that went to the final afternoon of the last round of matches, the majority would probably have answered in the affirmative.
So much for accentuating the positive.
But expectations had increased dramatically as May turned to June, with Andrew Hall's side having won five of their first eight Division Two games - not to mention five successive victories in the CB40.
Indeed, they had risen to the point where any suggestion the team might NOT go up in the Championship might have been greeted with a measure of incredulity.
That is exactly what happened, though.
The FL t20 programme was little short of disastrous - Northants finished bottom of their division with only two wins - the wheels also came off in the 40-over competition and both Middlesex and Surrey overtook them in the four-day game to ensure an eighth consecutive summer outside the Championship's top flight.
"Ultimately I'm really disappointed that we couldn't get promotion, having led the table for so long," said chief executive Mark Tagg.
"But it's sport - and if you're not prepared to lose you shouldn't be playing in the first place.
"We're also disappointed with our Twenty20 campaign because that was a big thing for a club. Overall, though, there have been some fantastic highlights.
"Chaminda Vaas has been brilliant [claiming 70 Championship wickets, the county's highest tally in the competition for 16 years], and he's signed again for next season, which is great news."
Tagg added: "We did suffer a bit from injuries, which is ironic because we've invested more in sports science than we have for donkeys' years.
"We lost our momentum and it's difficult to get it going again."
Having missed out on promotion to Surrey by a point, head coach David Capel has insisted it is easy to think of where an all-important two extra points could have come from.
"It took us quite a long time to bowl Glamorgan out in their second innings on a slow pitch at Swansea," he admitted, after Northants ended up a handful of runs short in a last-session run-chase.
"Six wickets to get on the final day against Middlesex at Lord's was achievable, we thought, but that didn't happen either.
"And at - but ended up being bowled out for 194 without getting a bonus point," Capel added.
"But I've learned an awful lot about how we can improve. The most important thing now is to carry that forward."
Ex-internationals Hall and Vaas demonstrated the value of experience on a daily basis - but even more pleasing for most West Standers were the performances of Alex Wakely, Rob Newton, Jack Brooks, David Willey and Jack Brooks - a talented rising generation who should be around for a while to come.
No need to rely on the 'spin doctors' to talk them up.