Gary Ballance and Azeem Rafiq sign new Yorkshire deals
Last updated on .From the section Cricket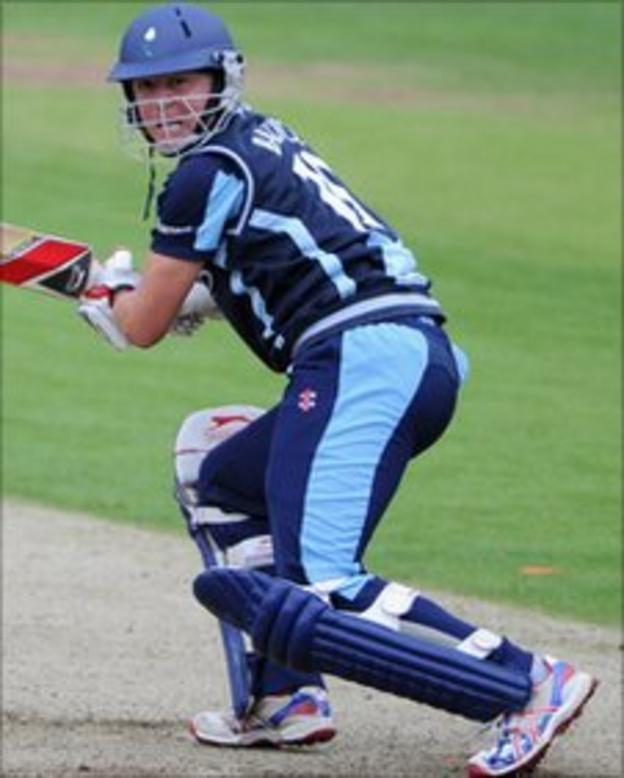 Promising young Yorkshire left-hander Gary Ballance, 21, has signed a new two-year contract at Headingley.
And the Tykes, relegated to Division Two in the County Championship, have also signed up off-spinner Azeem Rafiq, 20, on a two-year deal.
Bastsman Joe Root, 20, and right-arm seamer Moin Ashraf, 19, have been offered similar deals.
But spinner David Wainwright has exercised a clause in his contract asking to be released.
Pontefract-born Wainwright, 26, is now entitled to look for another county after playing just three Championship matches last season, in which his five wickets came at 67.20 apiece.
He went out on loan with Derbyshire last season, but that was cut short within 24 hours when he was recalled to Headingley to cover for an injury to Rafiq, and he did not play a game.
Laat season's appearances for the Tykes were restricted largely to limited-overs competitions.
Yorkshire have also released fast bowlers Ben Sanderson and Lee Hodgson.
Zimbabwean Ballance, 21, the nephew of former Derbyshire, Worcestershire and Zimbabwe coach David Houghton, made a real first-team breakthrough last season with the Tykes, hitting 717 runs in 11 Championship matches at 42.17, including his maiden first-class century against title-chasing Warwickshire.
Harare-born Ballance also hit 331 runs in nine CB40 matches and 215 in the FL t20.
Rafiq, suspended by Yorkshire last season for a four-letter word attack on England Under-19 coach John Abrahams, played just three Championship matches in 2011.
He was also loaned to Derbyshire, where he spent the first two months of the season, but he did play a starring role in helping Yorkshire beat Lancashire in the FL t20 at Old Trafford before a hamstring injury ended his campaign.
"We are delighted to offer contract extensions to these very talented youngsters who have shown such promise in an otherwise disappointing season," said Yorkshire coach Martyn Moxon.
"As is the nature of the game, we have also made the very difficult decision to release three other professionals and we wish Lee, Ben and David all the very best for the future."
Yorkshire have also awarded junior professional deals to left-hander Alex Lees, 18 and left-arm seamer James Wainman, 18, and summer contracts to another left-hander Callum Geldart, 19, wicketkeeper/batsman Dan Hodgson, 19, and 19-year-old left-armer Alex Lilley.